Exhibition gives New Zealand a taste of Chinese art
Updated: 2019-06-17 08:10
(Xinhua)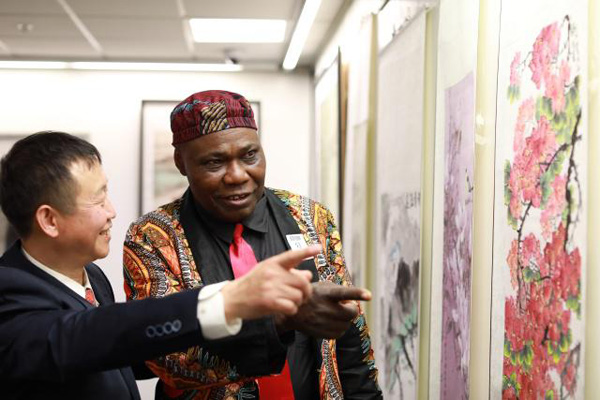 [Photo/Xinhua]
A China-New Zealand art exchange exhibition kicked off at the New Zealand parliament building on Wednesday evening, featuring Chinese art.
The exhibition, 2019 Image and Imagination, features works of 20 Chinese artists, showcasing their traditional art. And it also showcases 20 works of art by New Zealand artists with strong multicultural characteristics.
Guo Zongguang, the director of the China Cultural Center in Wellington, sees the exhibition as an opportunity to strengthen ties between New Zealand and China and promote the exchange of ideas.
"This exhibition is one of the many projects undertaken as part of the 2019 China-New Zealand Year of Tourism. This program has facilitated connections up and down the country, strengthening ties between New Zealand and China, and promoting opportunities for cultural exchange and dialogue," says Guo.
"The exhibition will further promote the exchange of ideas. And I also think the arts are especially effective in terms of creating a space for us to reflect on issues such as cultural diversity, differences and harmony," he adds.
Adrian Rurawhe, the assistant speaker of the New Zealand parliament, praised the exhibition, saying: "We have this exhibition in parliament, where all parties can have access to it. But even more than that, this place, as the People's House, allows people to come to this building every day and enjoy the exhibition."
Michael Wood, undersecretary for ethnic communities of New Zealand, says this exhibition will boost cultural and artistic exchanges between China and New Zealand.
And he adds: "I am convinced that the key to building a community of well-being in social cohesion and harmony between people of different cultures, faiths and ethnicities is through understanding.
"I look around this room, I see traditional Chinese art and I see contemporary art as well.
"New Zealand is one of the most multicultural societies in the world. We are immensely proud of the diversity and it is a source of strength for our country. One of the ways in which we can build links and come to understand one another more is through the arts."
The exhibition, which runs through July 18, is jointly hosted by the Auckland International Art Space, the China Cultural Center in Wellington and the New Zealand parliament Arts Centre.a