Publishers to boost China, Egypt cultural relations
Updated: 2019-02-18 09:40
(Xinhua)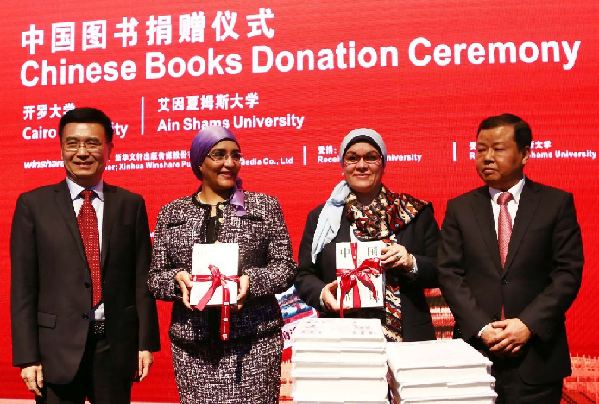 Xinhua Winshare Publishing and Media Company donates books to Egypt's Dar Al-Shorouk Publishing House Group at the Chinese Cultural Center in Cairo on Tuesday. [Photo/Xinhua]
CAIRO - China's Xinhua Winshare Publishing and Media Co and Egypt's Dar Al-Shorouk Publishing House Group signed a protocol and a cooperation contract in the field of publishing and translation at the headquarters of the Chinese Cultural Center in Cairo on Tuesday.
"Signing a protocol on cooperation in the field of publishing and translation is a very necessary step to boost the cultural relations between Egypt and China," Chairman of the General Egyptian Book Organization, Haitham Al-Haj Ali, said during the ceremony.
He pointed out that Egypt's Writers' Association has issued a collection of Chinese books, especially children's books, and also agreed on a project to market Arabic books electronically in China.
Former Egyptian cultural adviser to China Hussein Ibrahim said the signing of the cooperation protocol opens new horizons for cooperation between the Egyptian and Chinese peoples.
He hoped that the agreement would be the start of a new cultural project conveying Chinese culture to Egyptian people and Egyptian culture to those in China.
Ibrahim pointed out that the past few years have seen the translation of hundreds of Chinese books into Arabic by a group of professional translators, who play a major role in conveying Chinese culture to Egypt and the Arab region.
For his part, General Manager of Dar Al-Shorouk, Ahmed Bedair, said his publishing house is interested in opening up to cultures, especially those similar to the Egyptian civilization.
"This project is a step that reflects our interest in Chinese culture, and we hope it will not be the last one," he said during the signing ceremony, adding that Dar Al-Shorouk was founded 50 years ago and has translated works into dozens of languages, including Chinese.
Meanwhile, President of Xinhua Winshare, He Zhiyong, expressed his pleasure at signing an agreement with Dar Al-Shorouk that will further enhance cooperation between Chinese and Egyptian publishing houses.
He said Xinhua is one of the leading publishing groups in China, noting that it owns 10 publishing houses.
He explained that his company has started to expand outside China, adding that the number of books exported abroad exceeded 100,000.
"This helps deepen cultural communication between China and the world," he said.
During the ceremony, Xinhua also donated a series of valuable books to the Egyptian universities of Cairo and Ain Shams.