Photography exhibition featuring Chinese scenes held in Tokyo
Updated: 2015-04-13 17:40
(Chinaculture.org)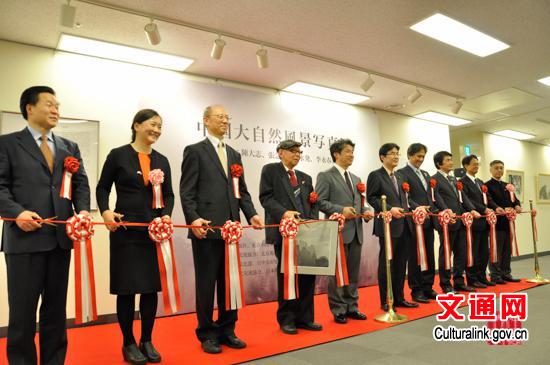 Some delegates take part in the ribbon-cutting ceremony.[Photo/Cultralink.gov.cn]
A photo exhibition featuring Chinese scenes opened at the Tokyo China Cultural Center on April 6, promoting cultural communication between China and Japan in tourism and photography.
To present a striking picture of China's rich natural landscape and cultural heritage like Mount Huang and the Silk Road, the exhibition presented more than 50 artworks from several famous Chinese photographers such as Chen Dazhi, Zhang Nianlu and Li Yongchun.
Xue Jian, Minister Counselor at the Chinese Mission to Japan, delivered a keynote speech at the opening ceremony. From his view, the growth of Sino-Japanese relations called for continuous advancement at both governmental and individual levels.
He hoped that the exhibition could strengthen mutual understanding and cooperation between the two nations.
He also encouraged Japanese people fond of Chinese civilization to witness a dynamic China through visiting China in person.
Hamada Kazuyuki, a member of the House of Councilors in Japan, said that although both countries share a lot of culture, there still exists a language barrier. Photographs can transcend this language barrier to promote people-to-people exchanges.
Sponsored by the Tokyo China Culture Center, CNTA (National Tourism Administration of the PRC) in Japan and China Photographic Publishing House, the exhibition lasted five days until April 10.