More Chinese cultural centers along Silk Road by 2020
Updated: 2015-02-17 07:46
(China Daily)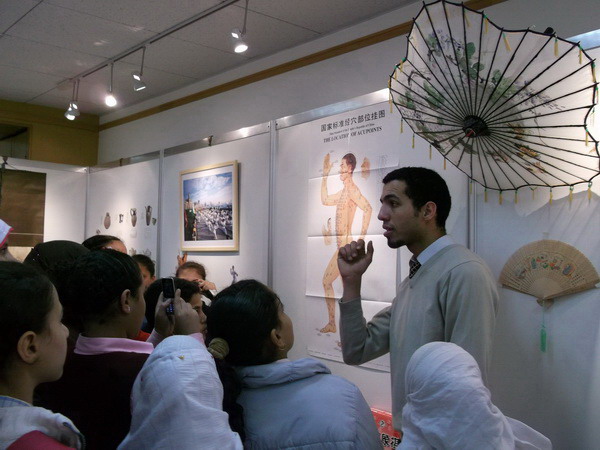 Middle school students visit the China Culture Center in Cairo to gain knowledge of Chinese traditional medicine. [Photo provided To China Daily]
China will hasten the process of building cultural centers in countries along the ancient Silk Road as part of an expansion plan for such institutes. The central government is looking to have at least 50 such centers by 2020, up from the current 20, officials from the Chinese Ministry of Culture said during a recent Chinese New Year celebration in Istanbul.
In Sri Lanka and Nepal, which are included in China's "Belt and Road" initiative, China has already built two culture centers that will open soon, Yu Jian, director for the Division of Western Asia and Northern Africa Affairs at the Ministry of Culture, said at the Feb 14 event. He added that China and Turkey are prepared to have the China Culture Center in that country soon.
Under the "Belt and Road" initiative, more highways, railways and air routes will be established, and Chinese regions will further integrate resources, policies and markets to connect with the outside world, according to Xinhua News Agency.
As a link for transportation between the West and the East, Turkey played a key role on the ancient Silk Road.
"We hope Turkey's China culture center will be a landmark building. The center should attract as many young people as possible and maintain close cooperation with local communities," Yu says.
Xiang Zhaolun, China's deputy minister of culture, was also present at the Istanbul gala that was held to promote the Spring Festival.
The nations that share good relations and have close cultural exchanges with China will be among the top places where the centers will come up, according to Yu.