Egypt embarks on a series of events for 'Happy Chinese New Year'
Updated: 2015-01-30 14:02
(Chinaculture.org)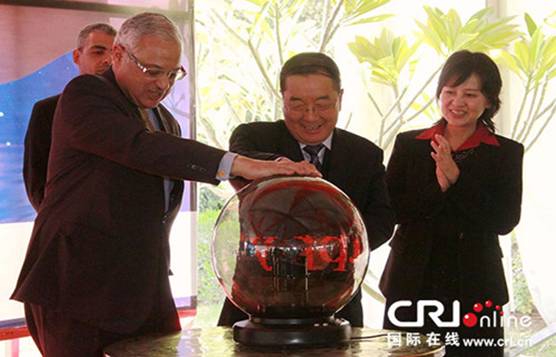 Officials tap the touch sensitive crystal ball at the launch ceremony. [Photo/CRI]
The Cairo China Cultural Center held a press conference on 'Happy Chinese New Year' at the Mena House Hotel, the birthplace of the Cairo Declaration on Jan 22. Chinese ambassador to Egypt Song Aiguo and Egyptian Tourism Minister Hisham Zaazou gave keynote speeches and placed their hands on the touch sensitive crystal ball, marking the beginning of a series of 'Happy Chinese New Year' events at the launch ceremony.
In his speech, Song made a detailed interpretation of the role of Spring Festival in Chinese traditional culture. The reason why China has held a series of 'Happy Chinese New Year' events across the globe is that the Chinese government truly hopes that foreigners can better understand China and its culture, traditions and customs. Besides, it is an unrivalled opportunity to promote Chinese fine culture on the world stage. From his perspective, Song said that Egyptian President Abdelfattah al Sisi's successful national visit to China not only prompts Sino-Egyptian relations onto a higher level, but creates a pleasant atmosphere for running plenty of relative events. He also added that the sixth session of 'Happy Chinese New Year' would be bound to present a more active yet stable China to Egyptians and encourage fruitful cooperation in tourism.
According to Zaazou, the recent national visit facilitates the bilateral relations in many areas. For instance, the Egyptian government will offer more convenience for Chinese visitors by adding chartered airplanes from well-known Chinese cities like Shanghai, Shenzhen and Chengdu to their cities. He also said that Egypt wished to forge a wholesome tourism image abroad by holding these cultural activities.
'Happy Chinese New Year' is a worldwide celebration hosted by the Ministry of Culture of the PRC and other Chinese authorities. Since its debut in Egypt in 2010, it has already become a popular channel for Egyptians to understand Chinese culture, with participants on the increase each year. Eight activities comprise the main part of '2015 Happy Chinese New Year' including a temple fair, a grand carnival and the New Year celebrations for overseas Chinese.