U.S. Treasury unveils 'Year of Goat' Lucky Money
(Xinhua) Updated: 2015-02-02 09:51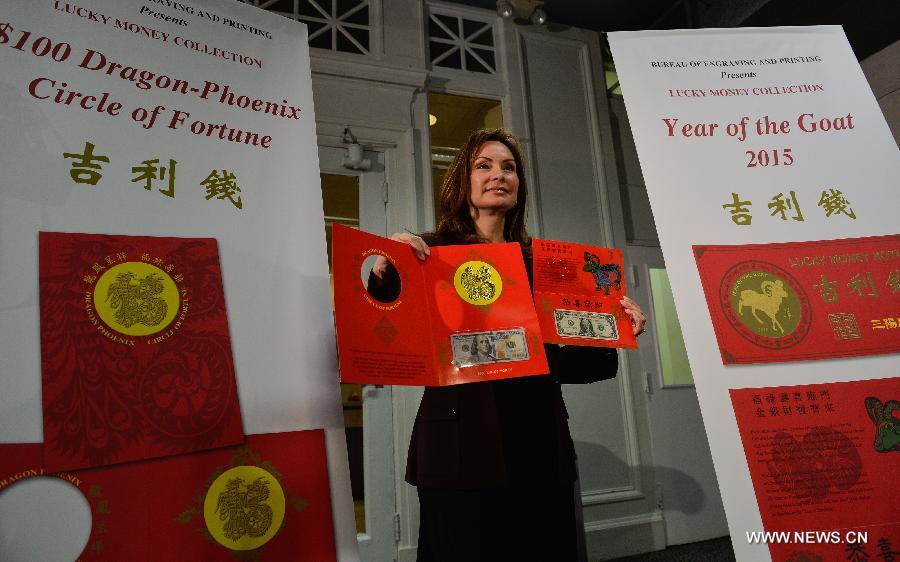 U.S. Treasurer Rosie Rios displays the " Year of the Goat 2015 and $100 Dragon-Phoenix Circle of Fortune" lucky money notes during a press conference in Washington D.C., capital of the United States, Dec. 2, 2014. The U.S. Treasury Department on Tuesday unveiled its two latest seasonal additions-- Federal Reserve note and $100 Federal Reserve note to its "Lucky Money" collections to celebrate the upcoming Chinese Lunar New Year of the Goat in 2015.[Photo/Xinhua]
The U.S. Treasury unveiled this year's one-dollar-note "Lucky Money" on Tuesday to welcome the upcoming Chinese Lunar New Year.
The latest edition of 12 Chinese zodiac serials lucky money, " Year of Goat", would be put into market Wednesday with a limited available amount of 88,888, said U.S. Treasurer Rosie Rios during Tuesday's press conference. With a serial number starting of "8888 ", the uncirculated one dollar note represents good fortune and prosperity, signifying success in the New Year, she added.
Chinese zodiac signs are formed by 12 animals representing a rotating 12-year cycle. Many Chinese still believe that their fate and character is tied to the zodiac symbols in the year they were born. And the number 8 is always seen as symbol of wealth and fortune in traditional Chinese community.
"We value very much the celebration of Chinese New Year," said Rios, adding that it is a holiday tradition for many Chinese people to have a gift related to the lucky number "8".
The Bureau of Engraving and Printing (BEP) of U.S. Treasury has been making Lucky Money since 2000. Twenty-five different types of products have attracted both domestic and international consumers with their delicate design using Chinese elements.
Along with the "Year of Goat" lucky money, another product from the collection was also released at the press conference dubbed " The Dragon Phoenix Circle of Fortune". Rios told the reporters that the uncirculated 100 dollar note inside a decorative Dragon and Phoenix folder represents unity and harmony. It is also symbolic for the bureau because it's using the most advance technology in the history of money.
"We are very proud of this note," said Rios. "It symbolizes the great sophistication technology the BEP has continued to develop over the years".