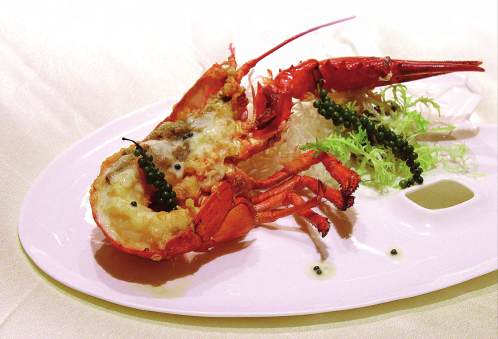 Braised Canadian lobster with Chinese green peppers and white wine is Chinese fusion cuisine at its best.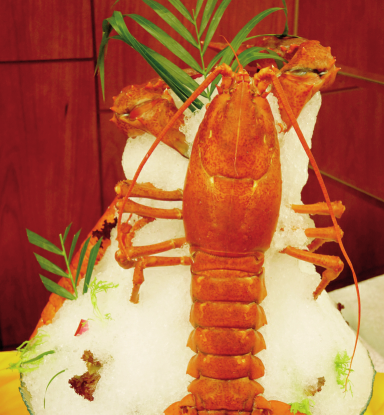 Canadian lobsters have big claws
Lobsters are a delicious but expensive delicacy. But people can eat them at a much more affordable price now in Beijing. The Cantonese restaurant group Tang Palace announced on Dec 12 its Beijing restaurants would serve Canadian lobster at a promotional price for the winter season. At all its seafood eateries, lobsters weighing around 600 grams cost 98 yuan ($16) each. At the high-end Tang Palace No 1, half a lobster costs 78 yuan per head. In the past a Canadian lobster cost more than 200 yuan per 500 grams at Tang Palace. That is still the price in other restaurants. The price cut was made possible after the restaurant group started to purchase lobsters directly from Canada.
According to He Jianmei, the chain's general manager of Beijing area, a delegation from Tang Palace visited Canada in 2012, where they got in touch with Atlantic Canada Resources, a Canadian company. They decided to cooperate to provide Canadian lobster directly to the restaurant.
On Dec 12, Tang Palace held a press conference to announce the start of a Canadian lobster festival, along with representatives from the Canadian embassy.
Murray Gwyer, agriculture and agri-food counselor with the embassy, says Canada has exported seafood to China for many years.
In the past two or three years, lobster shipping has increased dramatically. "China is an increasingly important market," he says.
In 2012 the country exported $30 million worth of lobster to China. China is now Canada's second-largest market for lobster exports, just after the United States.
Canada exports the same variety of lobster produced in the US northeastern regions. It is Homarus americanus-known in the US as "Boston lobster".
These crustaceans are dark greenish in color and have big claws.
Australian lobster, another popular lobster in Chinese restaurants here, doesn't have such big claws.
"Because these lobsters are grown in cold water, they are firm, sweet and they have a lot of flavor," says Andrew Maharaj, trade commissioner with the Canadian embassy.
Maharaj says the lobster is grown naturally in cold water, so it is the kind of safe food product Chinese people are looking for.