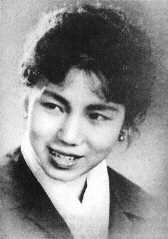 File photo of Zhao Lirong, when she was young.
Born into a family of opera performers in Baodi County of
Tianjin
Municipality on March 11, 1928,
Zhao Lirong
studied Pingju Opera at the age of eight. She joined the Pingju Opera Troupe of the General Political Department and later moved to the China Pingju Opera Troupe, creating a series of characters that were all very well received by audiences.
Zhao gave her first performance in her 60s at the 1989 New Year's party and appeared in six other annual celebrations since. Some of Zhao's works won her universal praise and a solid reputation in China, which became the highlight of her artistic career. Her first televised performance was the series "Pilgrim to the West"; and audiences were also very impressed by Zhao's performance in the "Dream of the Red Mansion".
In her 60s, Zhao experimented with comical routines (short skits featuring two or three players), which became the highlight of her artistic life.
Zhao died of lung cancer at the age of 73 in 2000. During her 60-year career, Zhao was considered an outstanding talent in both stage opera and film. Zhao received the Best Actress Award at the Tokyo International Film Festival in 1991 for her role in Spend the New Year. She also won the 1992 Baihua Best Actress award, an important national prize awarded annually in China.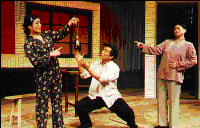 ** Filmography
Filial Son and Filial Piety (1993)
TheSpring Festival(1991)
Dream of the Red Mansion Part 3 (1989)
Third Sister Yang Goes to Court (1981)
In May 1996 Zhao Lirong was diagnosed with emphysema after suffering from hyperpyretic, and coughed heavily after being caught in a rainstorm on her way to a performance. In addition, her tobacco addiction led to tracheitis.