Nanjing Yunjin,or Nanjing Brocade, is soft and lovely as the clouds, more valuable than gold.
NanjingYunjin refers to the incredibly beautiful brocade made in Nanjing, capital city of easternJiangsu Province.Yunin Chinese means clouds, andjinmeans brocade. The image is lovely: A delicate and flossy piece of brocade that feels just like soft clouds.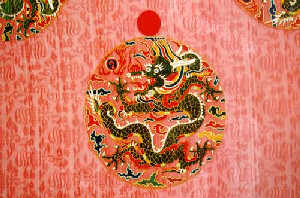 Among all ancient fabrics, silk cloth known as jin represents the industry's top arts and crafts. Furthermore, Nanjing brocade has absorbed all the best silk-fabrics-weaving crafts and skills of past dynasties and ranks first in quality among theChengdubrocade in southwesternSichuan Province,Suzhoubrocade in Jiangsu Province, and Zhuang brocade in southwesternGuangxiProvince. With the rich cultural and scientific meaning it carries, the Nanjing brocade is honored by experts as "the last milestone in the technological history of Chinese silk fabrics".

 Brocade history
The history of Nanjing Yunjin can be traced back to thethree kingdoms period(220-280). In a war, which broke out at the end the East Jin Dynasty (317-420), General Liu Yu defeated theXi'an-based Later Qin kingdom (384-417). The victory brought all the craftsmen in Xi'an back to Jiankang, now Nanjing City, among whom brocade-weavers were a dominant force. The brocade weavers were top craftsmen nationwide and had learned lots of skills from minority ethnic groups. The East Jin government had set up a special brocade office in Nanjing to manage the production of the brocade, which represented the formal establishment of Nanjing brocade.