He has the charm to make people never forget him after seeing his films. This time, he might make people from all around the world remember this name: Wong Karwai.
On January 4, Wong Karwai, the famous Chinese movie director, was appointed by organizers of the Cannes film festival as the jury president for the 59th annual Cannes Film festival, which is scheduled to begin on May 17 and to run until May 28 this year.
As the first-ever Chinese movie director as well as the first-ever Asian director honored as the jury president of the Cannes film festival, Wong Karwai is regarded as one of Asia's noteworthy contemporary directors and has gained much international recognition.
"We are particularly delighted to have Wong Karwai as jury president. His films immediately strike us with their plastic splendor and nostalgic amorous emotion in the great romantic tradition," said Gilles Jacob, president of the Cannes Film Festival.
Four days later, his latest film called 2046,which took nearly five years to make, won the Best Foreign Film Award at the New York Film Critics Circle's 71st Annual Awards.
A director with a unique style
Everybody holds on to their own belief, though it seems a waste of time in other's eyes. However, it is life and death to him.
Anyone can be malicious, if he has ever been jealous.
Everything will be out of date one day.
The more you want to forget about something, the more clearly you remember it. So if you no longer own it, the only thing you can do is not to forget it.
You will never forget these lines after seeing Wong' films, such as Ashes of Time. These seemingly plain words actually convey deep connotations and to some extent reflect Wong Karwai's ideas when directing a film.
Wong Karwai has made himself a famous brand in today'sHong Kong's film circle, which is flooded by pop-culture. He persists on his own style and cannot be easily imitated. Yet, the mainstream market adores him.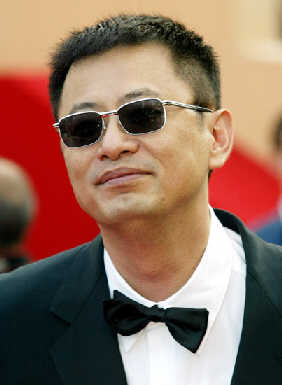 Some people say that just like his films, Wong Karwai always gives us a sense of mystery and some expectations. He is the one who can perceive the fringe, vacuous, absurd, and lonely mind of modern people. Meanwhile, he is able to infuse this kind of vanward idea and experience into his films in the most popular and prevalent way. So when we are trying to understand Wong Karwai, we are seeing and finding ourselves as well.
In Wong Karwai's films, he is good at creating a kind of reminiscent atmosphere. He likes to use such roles as swordsmen, killers, and wanderers to symbolize modern people's concerns of their inner world and the rigid outer life. He is careful about every character in his films and people can find the particularity in each of them.
If you are careful enough, you may find that although many scenes are shot in Thailand, Argentina, and other places, these scenes greatly resemble Hong Kong or the Shanghaiof decades ago. Describing himself as a "Shanghai-made, Hong Kong-produced" director, Wong Karwai says that there are many things of great elegance in Chinese culture, and actually you can find your inspiration in making a film from ancientChinese poetry. Thus, audience can find the traces of the environment where the director grew up and the culture behind it.
On the train ahead, on the way to the dream
Born in China's biggest city Shanghai in 1958, Wang Karwai moved to Hong Kong with his mother in 1962 and grew up there. He loved movies and spent lots of time seeing them every day during his childhood.