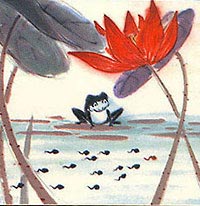 With their refined brush strokes and fountain of colors and creativity, Chinese animation films are proving to have the Midas touch, winning a golden set of international prizes.
Chinese animated films not only include cartoons, but also puppet films,paper-cutfilms, and many other categories. It often draws material from children's stories, fairy tales and folk tales, and then projects a fantastic, humorous, and vivid appeal by a special artistic approach. For these reasons and more, Chinese animated films have been welcomed by Chinese and foreign audiences. It is one of the Chinese film genres winning the most international prizes.
Chinese cartoon films have a history of over 80 years, starting with the "Wan Brothers" (Wan Laiming, Wan Guchan, and Wan Chaochen) who started to produce Chinese cartoon films in the 1920s. "Princess Iron Fan" -- a full-length cartoon film based on the "Pilgrimage to the West" novel -- was directed in 1941 and caused a great stir in China, Japan, and many countries in Southeast Asia.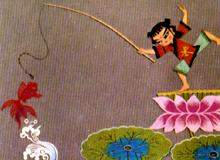 From the mid-1950s to the early 1960s, Chinese animated film experienced its first climax in development. In 1956, the puppet film "The Magic Brush" won the First Prize for Children's Entertainment Films at the 8th Venice International Children's Film Festival. It was the first time a Chinese animated film won an international prize. In 1958, China's firstpaper-cut film, "Pigsy Eats Watermelons," directed by Wan Guchan, added a new form to animated films.
Two years later, ink-and-wash animated films appeared in China. It was a breakthrough in the forms of expression and aesthetic conception in animated films. Two ink-and-wash films called "Tadpoles Searching for Mother" and "Cowherd's Flute," with Te Wei as art director and Qian Jiajun as technical director, developed a high reputation both at home and abroad.
The former received the Best Animated Film Prize at the First Hundred Flower Awards as well as winning five international prizes, while " Cowherd's Flute" was awarded the Golden Prize at the Odense International Fairy Tale Film Festival in Denmark.
In the early 1960s, a full-length animated film, "Havoc in Heaven" (in two parts) directed by Wan Laiming, won the Best Film Prize at the London International Film Festival. In the same period, other films such as " Peacock Flying Southeast" (directed by Jin Xi), "The Golden Conch," directed by Wan Guchan and Qian Yunda, and "The Radish Comes Back" (directed by Tang Cheng) racked up many international prizes for their unique artistic styles.