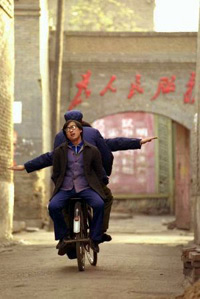 An independent film---An independent film (or indie film) is a film initially produced without financing or distribution from a major movie studio.
The word "Independent (Underground) film" first appeared around 1996 in China, but it was only in 2000 that it caught mainstream's attention. Many of these independent films are shot by young directors, represented by the sixth generation of Chinese directors (mainly referring toBeijing Film Academygraduates of the middle 1980s), and embody the directors' strong and personal emotion. The film includes:BeijingBastards; East Palace, West Palace; Shoulder Pole and Girls; The Flying Hair; The Making of Steel and so on.
With an intense expression both in the literature and image, these independent films raised a new innovation in Chinese film scene that was relatively conservative in that time.
However, because most of these films were banned from the public cinema, to find a platform to show their films, directors usually chose an alternative route -- participation in some international film festivals. As a result, these directors really gained much high praise in the outside world. Gradually a group of young directors, like Jia Zhangke, Wang Xiaoshuai, Zhang Yuan, Lu Xuechang, Lou Ye, Wang Chao, and Zhu We and their works got more and more attention both from the Chinese movie amateurs and the public media.
Since then many famous independent films have debuted one after another along this road, including films such asSuzhouRiver, Beijing Bicycle, Xiao Wu, Platform, Unknown Pleasures, The Orphan ofAnyang, and Seafood. However, these films' commercial value and popularity were well behind their critical success.
The Chinese independent film was greatly significant: it provided another avenue for Chinese film, and expedited the growth of a batch of directors with an innovative and independent spirit. However, with little commercial success achieved in independent films, the directors continuously work in a difficult environment.

 Directors
Blocked by the system and unable to express themselves completely, the directors saw independent film as their only choice and hope.
These directors guard the integrity of their films while at the same time offering the audience something new and exciting. One day the independent film movement will be what drives the Chinese film industry.
The representative directors are Wang Xiaoshui, Zhang Yuan, Zhang Yang, Jia Zhangke.
Author:Ivana