Celebrating the New Yearhas the celebrations of the traditional Chinese New Year, now known as the Spring Festival, as its backdrop and depicts the happenings on New Year's Day in the Cheng family. There are 13 members in the family, including workers, farmers, a teacher, a student, a shop assistant, a cadre, and the daughter of a high-ranking official. Each of them acts according to his or her own thinking and code of conduct.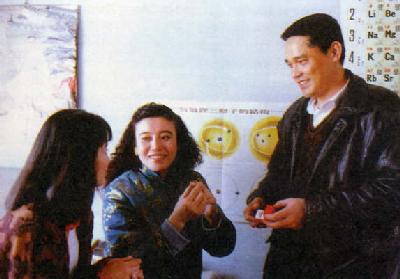 A scene fromCelebrating the New Year
There should be a happy family reunion for the celebrations, but quarrels turn into physical fights, and they part in discord. The film shows the contradictions and shocks caused to the family after a commodity economy appeared. It made the viewers ponder: Are there things more important than worldly possessions?
Celebrating the New Year was produced by the Beijing Film Studio and the Hong Kong Wanhe Film Co., Ltd in 1990. Directed by Huang Jianzhong and starred by Li Baotian and Zhao Lirong, etc., the film won the Judging Panel's Special Prize and the Best Actress Award at the Tokyo International Film Festival in 1991, as well as the Excellent Feature Film issued by China State Administration of Radio, Film and Television.