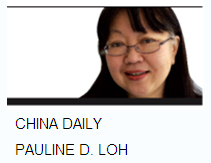 Social media has changed the way we eat. The first thing many of us do when the platters are laid on the table is whip out our smartphones and start taking photographs.
The next thing we do is to log on to WeChat, Twitter or Weibo and post food shots online.
This compulsive urge to show off has raised the ire of some Michelin-starred chefs, who criticize amateur food critics who allow their food to grow cold while they let friends and fans know exactly what, where and when they are eating.
It's the "when" that bothers the chefs.
It takes crucial timing in the kitchen to get food served piping hot, and it probably hurts the crew to see it age on the table as the excited diner posts his pictures online.
A recent story in international news media quoted chefs as saying they oppose "food porn" at the table for a few reasons. That food grows cold, and their efforts are wasted is the main reason, but they also say that photos posted online spoil the surprise for prospective diners.
While I sympathize with the first, I do not agree with the second.
If all dishes were to be a surprise, then why bother to encourage journalists to do food reviews, which are a major draw for readers of any newspaper, including this one.
Chefs, backed into a corner by the "customers are always right" philosophy, also face a delicate dilemma.
How on earth can they get diners to stop taking photos of their food before eating? Placing a curt reminder on the menu, or stopping an excited customer from pointing his phone at his plate may alienate him and invite negative feedback.
An evil comment can go viral in the few minutes the irate customer calls for the bill. Tact, diplomacy and skillful conflict management are becoming the next necessary skills at the culinary institutes.
On the other hand, social media has also encouraged cooking and baking at home, because it offers the home chef an opportunity to share achievements and invite admiration. My WeChat account is flooded with tantalizing food shots all the time and many document the efforts of the novice cooks.
In China, especially, this is a positive trend.
With so many people migrating to the urban centers to study, work and live, many young people have lost the art of cooking and any attempt to cook at home should be enthusiastically encouraged.
Social media is also a place where these young folks share the flavors of home. During the recent Spring Festival break, photos of many regional dishes were posted online as China's workforce took its annual holiday back home. Many proudly showed off the delicacies of their native village or city and showcased special dishes that are eaten only during the Lunar New Year.
This country is rich in culinary heritage and with increasing urbanization, much of it is being eroded by the invasion of foreign cuisines and fast-food chains. Being able to post food photos online helps young people stay loyal to this heritage and cultivate pride and identity.
As for the poor chefs who wring their hands and toss their toques in despair, perhaps a gentle reminder at the table will work. This is where your service staff will come in handy.
Otherwise, live with it.
Smartphones will only get smarter, and as the global village expands its borders, a food shot posted online will be seen by countless people in many countries. It's your choice whether it will be a good or bad experience.
As the Chinese say, color, aroma, flavor and presentation are crucial to the eating experience and all dishes must start by looking good.
We recommend: