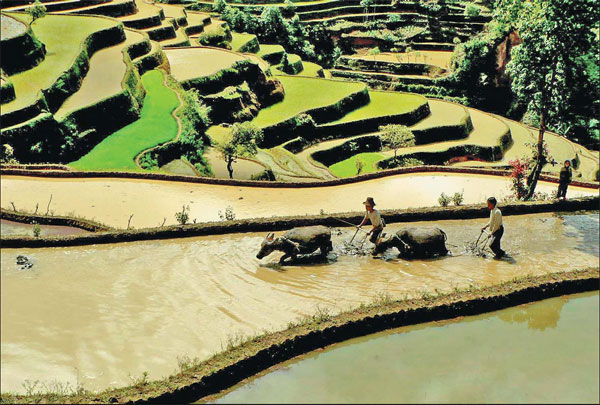 The rice terraces Hani people have cultivated for about 1,300 years are now a World Heritage site. Provided to China Daily
UNESCO World Heritage designation lauds world wonder's blend of culture and ecology. Zhang Zixuan reports.
The Honghe Hani Rice Terraces rise up the Ailao Mountains from the Honghe River's southern bank. They span four counties in the Honghe Hani and Yi autonomous prefecture in southeastern Yunnan province.
This man-made wonder was inducted into UNESCO's World Heritage List on Saturday at the World Heritage Committee's 37th session in Phnom Penh, Cambodia.
The nominated area and buffer zone is in Yuanyang county, which covers 461 square kilometers and displays the most concentrated and best-developed terraces in three valleys.
The 82 villages in the area house 80,000 people from the Hani and six other ethnic groups.
The more than 1,300-year-old terraces cascade from a summit 2,000 meters above sea level to the mountain's base. In some places, there are as many as 3,700 terraces flowing down the slopes. The steepest drop at 45 degrees.
"The Hani rice terraces are not just a natural splendor but also the most harmonious masterpiece of man and nature," the prefecture's deputy director Tan Ping says.
Tan explains they create a system that fuses agriculture and ecology, with forests, villages, terraces and water.
The highland forests are the lifeblood of the system to capture the water that makes irrigation possible.
"The forests are the only reservoir," says Zhang Hongzhen, nomination group leader and Hani Rice Terraces Administrative Bureau director.
The Hani traditionally believed the woodlands are home to their village god Angma, whose name translates as Village's Soul, and their land-protection deity Misong, who blesses them with peace and prosperity.
The Hani vigorously guard the sacred forests from outsiders, especially women.
The villages are built in the timberlands' lower fringes. The settlements are comprised of "mushroom houses", built of rammed earth, adobe bricks and stone with umbrella-shaped straw-thatched roofs.
The houses typically have three stories. The first is for livestock; the second is the living area and the top floor is for grain storage.
"The scenery before rice transplanting is like heaven for photographers," Yunnan's deputy governor Gao Feng says. "The terraces are full of water, which makes them appear as millions of mirrors reflecting the sun, clouds and sky."
From late April to late September, Hani people grow red rice, the terrace's dominant crop. Cattle and buffalo plow the terraces, and no chemical fertilizers are used.
Fish and ducks are also bred in the paddies, which improves fertility while providing food for people and animals.