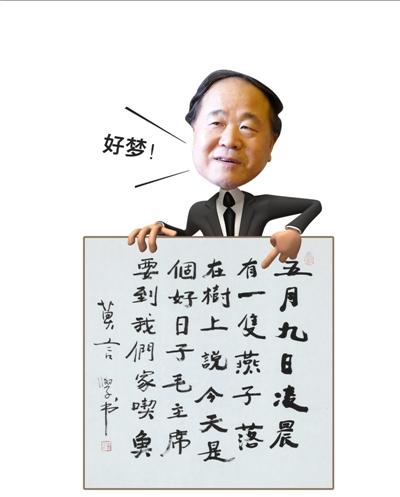 The calligraphy of Mo Yan shown in this picture is auctioned off at 300,000 yuan (US$48,942) on June 16, 2013. (Xinhua)
The calligraphy of Mo Yan, a Chinese writer who won Nobel Literature Prize in 2012, was auctioned off at 300,000 yuan (US$48,942) on Sunday, almost 11 times the reserve price, Wuhan Evening News reported.
Created in 2011, the calligraphy work recorded one of Mo's dreams. In the dream, a swallow perches on a tree and tells Mo that it is bound to be a great day that day as Chairman Mao Zedong will visit Mo's family and eat fish with them.
Nevertheless, the general feeling among the public was that the work was overvalued. One netizen referring to himself as "Official of Changjiushi Township" said, "Mo Yan should stop writing calligraphy. If you insist on doing this, I advise you to practice hard on a rock for three years." Another netizen named "Yunri" said, "Mo Yan's handwriting is as just ugly as mine." And yet another netizen named "Boluomaimeizhi" said, "To be accurate, this thing should be called Mo Yan's handwriting (not calligraphy)."
The work had not been put in by Mo Yan himself, according to the auction company, Beijing Tranthy International Auction Co.,Ltd.
Mo Yan's calligraphy works are not rare, but their prices vary significantly, ranging from 30,000 yuan (US$4,894) to 3,000 yuan (US$489). It is reported that one of his calligraphy works was sold at 1.5 million yuan (US$244,750) on May 19, 2013 by a Shandong auction company, but the final bid price was not listed on the company's website.
We recommend: