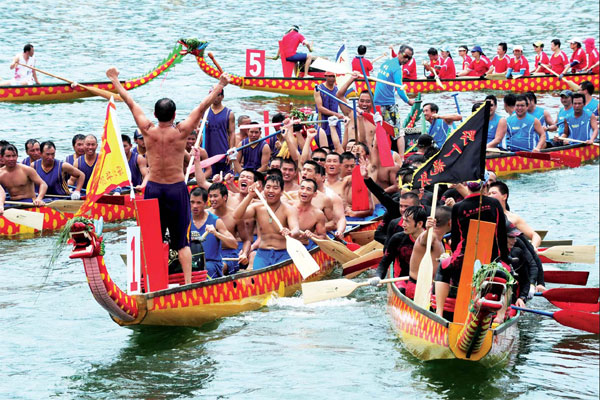 The three-day mini-holiday for Duanwu Festival has triggered criticism from some, but cheers from others. Wu Jun / for China Daily
Traditional Chinese holidays, like the recent Duanwu Festival, are celebratory reminders of our common roots, but a healthy diversity of attitudes and activities is necessary to keep them relevant to our modern era.
There's a joke circulating the Web: Marx left us tons of inscrutable texts to rack our brains, and Qu Yuan gave us three days off. Luckily, it is Chinese who take care of their compatriots.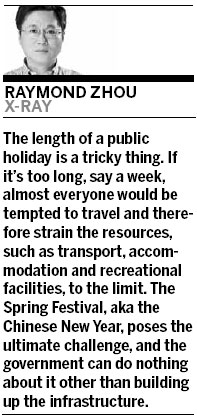 Marx, of course, is Karl, not Groucho. Every high school and college student in China has to take a crack at his writings or at least commit long passages to memory to pass the mandatory tests. And Qu Yuan (c. 340-278 BC) was an ancient Chinese poet in whose memory the Duanwu Festival is held. Actually, it is a one-day public holiday, but combined with a weekend it stretches to a three-day affair.
The festival falls on the fifth day of the fifth month on the lunar calendar, which means it is never fixed on the Gregorian calendar. This year it happened to be a Wednesday, June 12, right in the middle of the week. The State Council issued a decree that made the preceding Saturday and Sunday normal work days and Monday and Tuesday as days off, creating a nifty mini-holiday.
Unexpectedly, there were cries of foul. The agony of working seven consecutive days seems to outweigh the joy of a prolonged weekend or an extension of tradition-induced celebration. As I see it, you have to really hate your job to dislike this arrangement. With only Wednesday off, you couldn't have traveled farther than your local park.
I can imagine the kind of people who are detractors: It must be those who are young, stuck in dead-end jobs and live far away from their family or friends. One day of idling around is better than three days of hearing of others' journeys to the suburbs or even overseas, which will only accentuate their feeling of loneliness.
For the growing middle class, a three-day break is a godsend. They could make all kinds of plans, which would preferably take them away from urban commotion and pollution, at once relaxing their minds and body and stimulating the economy.
The length of a public holiday is a tricky thing. If it's too long, say a week, almost everyone would be tempted to travel and therefore strain the resources, such as transport, accommodation and recreational facilities, to the limit. The Spring Festival, aka the Chinese New Year, poses the ultimate challenge, and the government can do nothing about it other than building up the infrastructure. The high-speed trains are truly a huge relief.
China, the mainland that is, used to have a similar weeklong holiday for the Labor Day centered on May 1. In 2008 it was shortened from three days (turning seven days with two weekends joined together) to one day. At the same time, three one-day holidays were designated, all traditional festivals with roots going back thousands of years.
That was a giant step in the right direction: It eliminated one of the three weeklong festivals (the other non-traditional one being National Day on October 1) and its limit-pushing headache, and at the same time it gave prominence to Chinese customs that were either taken for granted or fading from modern hustle and bustle.
We recommend:
Special Coverage: