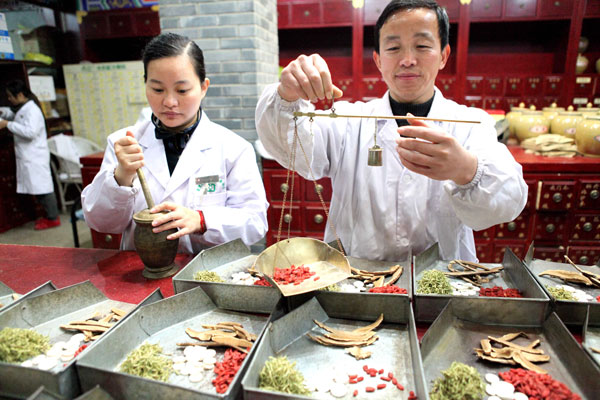 Maximin Gaillard, a French student obsessed with traditional Chinese medicine, used to feel completely lost in class. But improvements in teaching methods by professors of traditional Chinese medicine (TCM) aiming to make concrete abstract theories and empirical practices have helped Galliard understand things better.
"Without concrete and solid standards, it is very hard for foreigners to learn Chinese medical theory and practice." He Ganxiang, a doctor with Hubei Provincial Hospital of TCM.
This definitive and concretized teaching method is part of China's effort to modernize centuries-old TCM so it can be better understood and practiced around the world.
"Doctors and educators have all agreed that standardization is the key to modernizing and promoting TCM globally," He added.
While TCM fascinates many outside China, understanding its abstract concepts and complicated theories proves a challenge.
Unlike western medicine that is evidence-based and guided by anatomical and pathological notions, TCM theory explains the human body as an integrated whole and sees illness as a manifestation of underlying disharmony.
"Chinese medical theories are very abstract and intertwined with traditional Chinese culture," said Fu Ping, Dean of School of International Education, Hubei University of Chinese Medicine.
Fu added that without good Chinese language and knowledge of traditional Chinese culture, foreign students of TCM will find it quite challenging to understand doctrines rooted in classics such as the Yellow Emperor's Inner Canon and The Treatise on Cold Damage.
The solution, according to Fu, is to use stories to drive home some abstract ideas and cosmological notions.
"It's difficult to explain yin and yang to French people," said Gaillard. "Instead, I tell them like the change of season, changes of the human body also has its own pattern."
To make TCM better understood among foreign students, the International Medical School of Tianjin Medical University offers TCM courses in English.
Over the years, TCM has emerged as an alternative to western medicine in various parts of the world, with many clinics using acupuncture and herbal preparations to alleviate and cure symptoms and diseases.
There are more than 50,000 TCM clinics outside China, with 20,000 registered TCM doctors and 100,000 acupuncturist.
Special coverage: