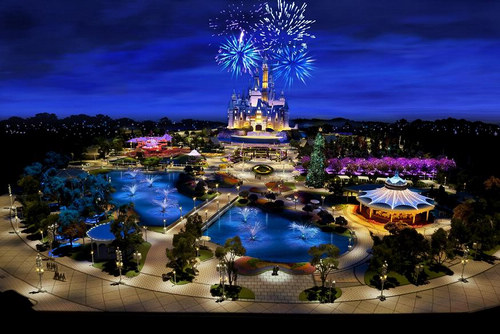 The world got a glimpse of what the much-anticipated Shanghai Disney Resort will look like yesterday, with the release of an image showing the iconic Enchanted Storybook Castle lit up after dark.
The image shows a 4.45-hectare area of trees, lakes and greenery with the castle at its center.
On opening day, scheduled for late 2015, the Shanghai Disney Resort will comprise Shanghai Disneyland, two hotels, a 46,000-square-meter retail, dining and entertainment venue, recreational facilities, a lake and associated parking and transport hubs.
Innovative new design and technology techniques are being used in order to maximize efficiencies in the design and construction phase, and ensure development of remains on target, officials said yesterday.
When work is complete, the castle will be the largest, and tallest, Disney castle built so far.
"We are excited to see the resort development move into an intensive phase of construction," said Mike Crawford, Shanghai Disney Resort's general manager. "We look forward to providing more updates in the future, as we reach key milestones."
Visitors will be able to take a 10-minute ferry boat trip from the castle around other scenic spots in the resort.
In the Enchanted Storybook Castle a winding staircase will lead guests on a "once upon a time adventure" featuring Disney princesses, officials said.
"Walt Disney Parks and Resorts has been helping families create shared memories for nearly 60 years," said Tom Staggs, chairman of Walt Disney Parks & Resorts.
He said the Shanghai Disney Resort will bring a classic Disney experience to the Chinese mainland.
Fan Xiping, chairman of Shanghai Shendi Group, Disney's Chinese partner, said: "The Shanghai Disney project will be the perfect combination of Disney global standards with local best practices and will truly be authentically Disney and distinctly Chinese."
Fan added: "We are excited to see the Disney Imagineering team bring new design and construction techniques to China, working collaboratively with local design institutes, thereby supporting localization efforts for the Shanghai Disney project while also creating longer term benefits for the Chinese construction industry."