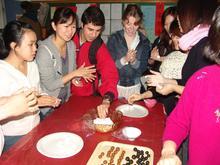 On Sunday, 80 foreigners from various embassies and agencies in Beijing celebrated the festival by making yuanxiao at Laoshe Teahouse in the central part of the city.
Wang Hui, publicity director for the Beijing municipal government, said the event was part of activities held for foreigners monthly to allow them to experience traditional Chinese culture.
Lynda Smith, who works at the United States embassy, finished making 10 yuanxiao in 10 minutes with her team and won a prize.
Usually people participate in public celebrations on Lantern Festival, the last day of the Spring Festival holiday, said folk custom expert Zhao Shu.
Denise Brendel, of the US, said at the event on Sunday that she learned more about the festival when she attended a lecture.
"I would like to learn more about Chinese festivals in the future because it could tell us a lot about Chinese life, as well as the life in the past," she said.
To promote traditional culture, it is important to preserve traditional skills and folk art, said Zhao Qingjie, a clay sculptor in Beijing.