Renmin University Press editor He Yaomin said in early January that a series of books on creative writing developed by the press have, "Unexpectedly, sold extremely well".
Mo is not the only Chinese writer who is being embraced internationally.
"Americans already viewed Chinese literature as an extremely important part of world literature, but the Nobel Prize always focuses attention more concretely," said veteran literary critic Carlin Romano, former president of The National Book Critics Circle in the US and author of America the Philosophical.
"I am sure that editors in American publishing are right now scrutinizing Chinese writers more closely than ever, looking for novels that will translate well into English," Romano added.
As a result, there has been a spike in highly acclaimed literary awards shortlisting Chinese writers.
In December, Sheng Keyi was long-listed for the Man Asian Literary Prize 2012, for her rural girl adventure book Northern Girls.
In January 2013, the Man Booker International Prize included Yan Lianke in the list of 10 international writers for his Lenin's Kisses. The winners will be announced in May.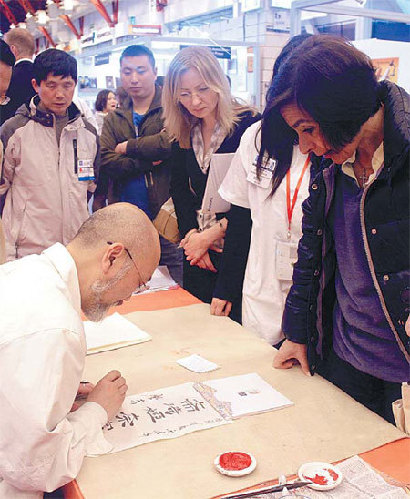 Visitors line up for calligraphic work by the Chinese artist Fan Dachuan at the 2012 London Book Fair. China was honored as the Market Focus country for the first time, with books about Chinese language and learning calligraphy being popular at the fair. [Bai Xu / Xinhua]
Translators essential
Chairwoman Tie tells an anecdote about a time Mo was in Spain and unwell. He went to a hospital and saw the doctor there, who happened to be a faithful reader of his works.
But not all writers are so well-known. According to statistics from the writers' association, an average of 2,000 novels are published in China every year. "Far more than in decades ago," said critic Zhang Yiwu from Peking University.
Among them, only 1,000 books from 150 writers are translated into other languages, according to the association, which amounts for 1.6 percent of the association's 9,125 members.
"More effective than the film adaptations (such as The Red Sorghum) in Mo's case, translators are a Chinese writer's shortcut to a prestigious global award like the Nobel," cultural critic Shi Hang said.
Mo, probably the contemporary writer who has the biggest number of foreign versions of his works, invited several of his translators to witness him accept his award in Stockholm in December.
"They're the ones to be honored," Mo said.
But the world market, especially Western readers' reluctance to read translations, and accept "new" writers, has set barriers for Chinese writers to reach a wider audience.
Critic Romano believes that as a general rule, American publishers do a poor job of translating foreign works.
"They simply don't publish enough. This has been a longstanding complaint of publishing professionals in, for instance, France, Italy and Germany. China is joining an already crowded club," he said.