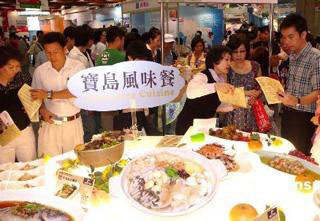 The rather revolting practice of selling recycled leftover food to mainland tourists by a restaurant in eastern Taiwan's Taitung county has recently made media headlines.
The disgraced owner quickly confessed, apologized and closed the venue for good, but it was the actual angle Taiwanese media outlets presented the story with that has arguably been the most intriguing part of it.
Somewhat unexpectedly, there was no politicizing nor were there wild suggestions that the scandal could be taken as an indicator of the state of cross-Strait relations. Instead, there was universal soul-searching over the local tourism industry being embarrassingly low-grade.
Traditionally, tourism has never been a big moneymaker for Taiwan. Frankly put, there are a number of major turnoffs to international holidaymakers, such as the island being too far off the beaten travelers' tracks, too far from Thailand, Indonesia's Bali and so on.
There are few safe swimming beaches, and neither are Taiwanese airports important hubs. To make matters worse, Taiwan is too expensive for backpackers, shoppers tend to prefer the thrill of places such as Hong Kong and Singapore, and it simply rains an awful lot much of the year on the island.
Likely distorting the picture somewhat, by no means all incoming travelers who ticked the "tourist" box on their immigration arrival cards were actual vacationers.
Thus, Taiwan's tourism sector has long eked out a Cinderella-like existence. The business world, tourism organizations and relevant authorities alike every now and then came up with catchy slogans, such as "Beautiful Taiwan," "Unique Taiwan," "Friendly Taiwan" or promoted some Hakka and aboriginal festivals, and that was basically it.
But then, all of a sudden, overwhelming potential was there. The island opened its doors to mainland tourists in 2008, and the resulting increase in arrivals has been surprising, indeed, accounting for a quantum leap from a mere 3.5 million in 2006 to last year's 7 million, marking an impressive 100 percent rise in just six years.
Over the same period, however, tourism infrastructure, concepts, regulations and their enforcement have most obviously not caught up, as glaringly demonstrated by a great number of tour bus accidents, disputes between travel agencies and tourists as well as a constant stream of scandals of the very category Taitung's leftover food story belongs to.
Other anecdotes, such as that of the extremely high turnover rate for tour bus drivers who see the job as a mere stepping stone to becoming better paid tour guides, or the perplexing regulation that tourists from the mainland - unlike all others - must be transported in buses less than 10 years old, additionally support the notion that Taiwan's response to the boom is very much still in its makeshift stage.
Taiwan would likely get away with a slightly unprofessional approach toward the tourism industry, if not all signs showed that the Taiwanese economy had grown less than 1 percent in 2012.
That the unemployment rate has nonetheless remained relatively stable at a little above the 4 percent mark is widely attributed to the new and immensely important role the local tourism industry has played.
Job creation is largely because of growing demand for retail and travel-related services, with nearly half the jobs created in 2012 having reportedly been in the island's hotels, restaurants and shops.
It doesn't take an economist to comprehend that Taiwanese society can by no means afford to let slip through its fingers the windfall the new tourism boom has brought, and if there is something good to be made from the recent embarrassing leftover food scandal, it is that it is greatly fueling discussion on the state of the tourism sector.
The leftover food scandal is perceptibly raising the general awareness of the urgency of upgrades to tourism infrastructure, concepts, regulations, law enforcement and, last but not least, attitudes.
As the discussion has obviously been taking place at all levels of government, business, academia and society, it is safe to say that the Taiwanese will have figured it all out before long.
Give it two more years, or perhaps three, and the island's tourism industry will surely be through with the lion's share of its teething troubles.
Source:Global times
Editor:Jinxin