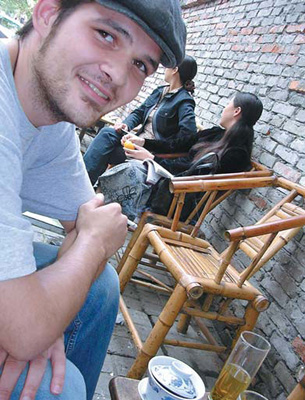 Yet, lying beneath the modern face of the city is "a small-town feeling", said Andrew Barnett, a restaurant manager at the Chengdu branch of the Bookworm bookshop, where he has worked for several months.
Related: Foreigners rooted in China[Special]
It's a big city with a small- town feeling, very comfortable and hospitable," said the 39-year-old.
The Korean-American restaurant manager has lived in several big cities, including Boston and New York City. Barnett stayed briefly in Hong Kong and Shanghai last year before moving to Chengdu.
"I love big cities," he said. "Chengdu is just another big city where I don't speak the language."
Barnett is among the increasing number of expatriates who are moving to Chengdu amid the city's quickening modernization.
More than 14,000 expatriates from 125 countries and regions now either work or study in the city, and the number keeps increasing, according to the 2012 Chengdu Investment Guide.
Barnett said living in Chengdu is like jogging, and living in Shanghai is like running. He said that doesn't mean the pace of life is slower in the southwestern city, only that people's attitudes in both places differ. In other words, he explained, Chengdu residents are more relaxed.
Sascha Matuszak, a German-American who came to Chengdu 10 years ago to work as a freelance writer, had similar thoughts.
"People always say life in Chengdu is slow," he said. "It's not slow. Things are happening very quickly ― metros, skyscrapers and airports. But people here are cool about it."
He said Shanghai and Beijing residents find the fast pace of those cities to be stressful. Chengdu residents, in contrast, find respite from those pressures in the city's food and tea, Matuszak said.