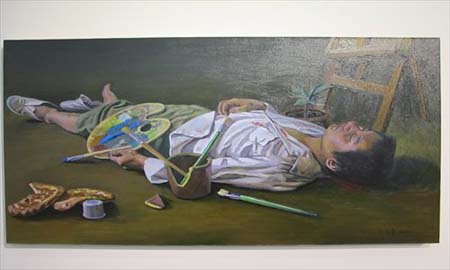 Photo: Xu Ming/GT
Chinese contemporary art has developed for decades and young artists born in the 1970s and 1980s have gradually entered into the public's consciousness: some have even begun to accumulate fame. But when talking about contemporary artists in China, the first people we think of are still artists like Fang Lijun, Wang Guangyi and Yue Minjun who rose to fame in the 1990s.
Chen Haitao, director of Platform China, one art institution engaged in discovering new talents, said the total number of works by young artists is increasing.
"Young artists perform generally well in the primary market. But exploring and discovering talents are full of uncertainty and risks," he said, "and the shift of focus takes time."
Signs of rising
Several days ago, works that have won prizes in the third Newstar Art Festival, a national platform for young artists, were exhibited in Nanjing. The exhibit covers over 100 young contemporary artists' works. In August, the China Central Academy of Fine Arts' Art Museum (CAFAM) held a large "future exhibition" to demonstrate 93 young artists' works.
The attention on young artists has been growing, indicating the domestic eagerness to rally the potential art market. Besides exhibitions, young artists appear more frequently in auctions and galleries. Art institutions like Platform China and Gallery Yang are dedicated to promoting young artists.
Amid the growing attention is the rising number of their works in galleries and art expos. Chen told Global Times that the number of buyers and collectors for young artists is growing due to the relatively low prices. In 2012 Art Beijing's "Art Nova 100" section for young artists, 63.5 percent of the exhibited works were under 50,000 yuan ($7,951), accounting for 76.8 percent of all the works sold.
In the auction market, the price is also rising. Sotheby's spring auction this April made an effort to promote artists born after 1970. Jia Aili, an artist born in 1979, became the most noticeable with his oil painting It's Not Only You Who is Pale (triptych) reached as high as HKD 6.62 million ($850,000), breaking his personal record. It is higher than the price of several Zhang Xiaogang paintings, though Zhang's Bloodline-Big Family: Family No.2 reached HKD 52.18 million - the highest in the section for Chinese contemporary art.
Li Qing, another young artist born in 1981, reached the hammer price of 322,000 yuan with his Spot the Differences in this year's spring auction market. Since 2006 when his works started to enter the market, over 20 pieces were sold above 100,000 yuan - relatively high for a young artist.