The Nanjing Massacre: A Complete Story, a series of books about the massacre that took 10 years to compile, will be released to mark the 75th anniversary of the tragedy.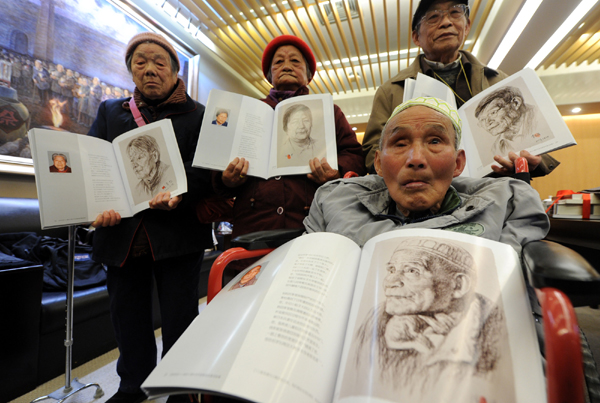 Chen Zhongyuan (front right) and other survivors of the Nanjing Massacre show their portraits in the book Living History: Poetry and Portraits of Nanjing Massacre Survivors, in Nanjing, Jiangsu province, on Monday. [Photo/Xinhua]
Researchers from Nanjing University collected material from eight countries and unearthed previously untapped material from diaries, news reports and oral histories, when researching the books.
The three volumes are by far the most comprehensive presentation of the 1937 tragedy, which led 300,000 people dead.
Zhang Xianwen, a history professor with Nanjing University and leader of the research team, said he hopes the books will help establish a "sensible understanding" of the past.
"We chose to work on the complete history to truthfully reflect what happened," Zhang said.
The 1,000-plus page books explore the ordinary lives of the citizens at the time and the international response to the tragedy.
They also detail how the city reacted to the massacre, detailing information of burials and charity work.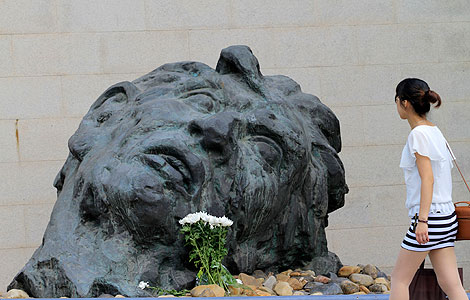 A visitor walks past a statue at the Nanking Massacre Museum, east China's Jiangsu province Sept 18, 2012. The statue depicts a victim of the Nanking Massacre. [Photo/Asianewsphoto]
Zhang and his team spent more than 10 years studying the Nanjing Massacre. In 2010, they released 72 source books.
Bu Ping, a researcher with the Chinese Academy of Social Sciences, said their endeavor is important.
"The Nanjing Massacre is now deeply associated with politics, people's emotions and different academic views. But this compilation has revealed the must-know basics. Their efforts are much appreciated," Bu said.
Professor Zhang said the team worked to uncover the truth.
"Our study will stand the test of time," he said. A translation of the books into English and Japanese is under way.
Source: China Daily