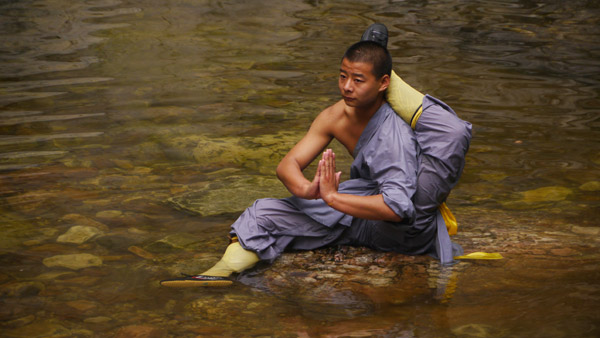 A Shaolin monk practices kung fu during the shooting of the first 3-D documentary about the legendary temple.
Diehard fans of Chinese martial arts will be able to enjoy kung fu as if they were in the presence of masters thanks to the launch of a 3-D documentary set in the legendary Shaolin Temple.
The 60-minute Shaolin Boot Camp showcases the life of Hollywood actor and martial artist Jason Scott Lee as he learns about the Shaolin Temple, its traditions and kung fu from Shaolin monks over a two-week period.
Shooting of the documentary wrapped up on Thursday.
Shi Yongxin, the abbot of the temple, tonsured Lee and guided his practice.
Lee, 46, who is of Chinese-American descent, became famous starring as Bruce Lee in the 1993 kung fu movie Dragon: The Bruce Lee Story. He also studied Jeet Kune Do — a kung fu system developed by Bruce Lee — under Jerry Poteet, one of Bruce Lee's students.
The story of the Shaolin Temple and its kung fu has been featured in movies and documentaries before, but this is the first 3-D film to be made about it.
It is a co-production by China Intercontinental Communication Center, Beach House Pictures in Singapore and 3net, a 3-D television channel in the United States. The documentary's premiere on 3net is scheduled for the beginning of 2013, with plans to have it broadcast in China later.
"Jason Scott Lee is very eager to learn. Shaolin kung fu is more culture, spirit and belief than just fighting and combat. I believe a true Shaolin will be demonstrated in the documentary," Shi said.
According to director Donovan Chan from Singapore, 3-D filmmaking has gained popularity globally in the past few years, both in television and motion pictures.
"It's perfect timing to recapture the beauty and spirit of the Shaolin Temple and its martial arts in stunning 3-D quality, displaying it to the world in a way it has never seen before," Chan said.
"We not only used state-of-the-art 3-D high-speed cameras to capture Shaolin kung fu in super slow motion, but also adopted an innovative hand-held 3-D rig. It allows us to capture the reality of living, eating and training with Shaolin monks without the bulk of many older 3-D rigs," he said.
Chan said it allows viewers to feel they are right in the Shaolin Temple, marveling at its ancient architecture with kung fu masters.
Chan said Jason Scott Lee is perfect for this role as he's not only a Jeet Kune Do expert but also has a great understanding of Western and Eastern traditions.
"In my childhood, I was obsessed with Shaolin kung fu when I watched Hong Kong's martial arts movies. I hoped someday I would visit the Shaolin Temple and often wondered what it would be like to be a warrior monk. Now I've fulfilled my dream," Jason Scott Lee said.
"If I say Shaolin kung fu, I think of fighting, medicine, practice and philosophy. What I've learned about Shaolin kung fu is about being mindful throughout the day," Lee said.
He said qigong — a kung fu system that involves the cultivation of internal breath — is very challenging and different from his training of Jeet Kune Do because Shaolin kung fu has more traditional and classical movements while Jeet Kune Do is quite modern.
"The thing I remember most is getting to know my master (Shi Yongxin) and other monks. They are humorous in life but they are very focused with all their heart in shooting. It's a fascinating contrast," Lee said.
"It's an international crew from five countries. Shaolin kung fu is not only an important part of Chinese culture, but also an international topic because it has many fans in the world," said Jing Shuiqing, director of the international department of the China Intercontinental Communication Center.