The second Chinese Arts Festival concluded on March 31 in Manama, the capital of Bahrain. The week-long event was the Chinese government's celebration for Manama being named the Arab Capital of Culture 2012. Chinese officials said the festival was part of an effort to boost ties between Manama and Beijing.
Hosted by the Chinese embassy in Bahrain, the festival involved over 100 artists and showcased Chinese ethnic dances, Shaolin kungfu, one of the four major Chinese embroidery arts, as well as dances and music integrated with Arabian elements.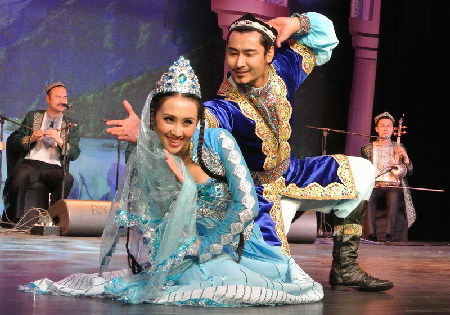 Artists from Xinjiang Uygur Autonomous Region performed in Manama, the capital of Bahrain, on the evening of March 26. Photo/Zhang Xiaolan
Much smaller and less populated than China, Bahrain witnessed a packed house during the week of Chinese performances. One theater staff member marveled at the crowd, saying no foreign shows had attracted such a huge audience.
The Chinese kungfu show was among the best-received programs. Monks from China's Shaolin Monastery showcased martial arts like balancing on the tip of a spear. They placed the spear at their throat and used Chinese qigong, a practice of aligning breath, movement and awareness for exercise, healing and meditation.
A monk from China's Shaolin Monastery balances on the tip of a spear using his throat on March 28.
Not only local viewers, but tourists from Germany and Iraq also attended the festival.
Although children younger than 8 years old were not allowed to enter the theater because of local rules, some were lucky enough to enjoy the show on a television screen outside the performing center.
A Chinese delegation of 121 people, including government officials, performers, and journalists, participated in the festival, according to media reports.
Yang Weiguo, China's ambassador to Bahrain, said this year's events reached a scale unprecedented in his 27 years as a diplomat.
Working staff members from Bahrain were very supportive and responsible, Yang added.
For example, Baharin officials helped the Chinese performers bring wooden stage weapons which were being held by customs, he said.
Hailed as a massive success by the two sides, the festival is part of the China-Arab Cooperation Forum, which was initiated in Jan 2004 when Chinese President Hu Jintao visited the Arab League headquarters in Cairo, Egypt. It serves as a platform between China and Arabian countries to step up cooperation in politics, economy and trade, culture, technology and international affairs.
Representatives from China and Bahrain signed a culture exchange agreement during the festival, which will be in effect from 2012 to 2015.
By Dong Lin