Renowned Seoul-based folk art group Chae Hyang Soon Dance Company presented graceful Korean dance. In the program were 12 classical works encompassing a range of styles. Seungmu (Buddhist Dance) and Geommu (Sword Dance) are both classed among Korea's Important Intangible Cultural Properties. Serene Chukyeonmu also captures Korean beauty to its fullest while fan dance Floral Banquet, a visually enchanting piece with elaborate costumes, is beloved by audiences for its harmony and beauty. The riveting show also featured the spiritually enlightening Buddhist piece Hwahyeonmu, which symbolically illustrates the endless cycles of nature; the uplifting Taffy Stick Dance, depicting the festive atmosphere of a bustling, traditional Korean marketplace; and Wind Drum, the work most identified with the dance company. Here, performers play a striking array of large drums, radiating vibrant energy which showcases the inner strength and passion of Korean women.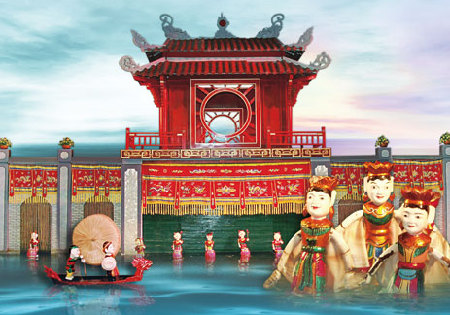 Hanoi's Thang Long Water Puppet Troupe is one of the most renowned performing arts groups in Vietnam. It has received the silver and gold prizes at the Hanoi International Puppetry Festival in 2008 and 2010 respectively. The water puppet performance brought by the troupe was vivid and fascinating. Standing in the pool built exclusively for this show, skilful puppeteers operated the puppets and as the puppets engaged in farming, bullfighting, frog hunting, water play and parades, a delightful series of scenes unfolded accompanied by live music. All this gave full expression to the Vietnamese's leisure, humor and harmonious relationship with nature.
Local Performers Shining on the Stage
Local performers from Hong Kong also took to the stage with other stand-out productions. Wong Wing-sze, a star Hong Kong playwright who won the Best Script in the 2011 Hong Kong Drama Awards for The Truth About Lying , returned with her new black comedy Our Best of Youth in Cambrian, telling a story filled with Hong Kong spirit with Tai Hang as its background.