Cultural volunteers from Beijing arrived in Urumqi, Xinjiang, August 30. They will initiate a series of activities called "A travel to Border Areas" in Urumqi, Hetian and Agriculture Division 14 (a division stationed in Xinjiang) from August 30 to September 9.
The 50 cultural volunteers mainly come from the Beijing Song & Dance Troupe and the Beijing Acrobatic Troupe. During their stay in Xinjiang, they will perform songs and dances, witty skits, plays, poetry readings, magic and acrobatics,
"We bring here four dancing programs, and we hope people here would enjoy the excellent programs from Beijing", said Mo Ni, a dancer from the Beijing Song & Dance Troupe.
"Spring Rain Project – A travel of National Cultural Volunteers to Border Areas" is organized and implemented by the Ministry of Culture. On the evening of August 31, cultural volunteers will put on their show in the Xinjiang People's Theatre.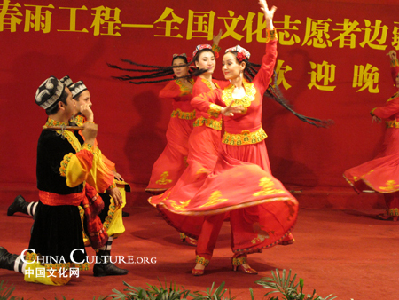 Ethnic actors perfom at the welcome party in Urumqi, August 30. Photos by Dong Lin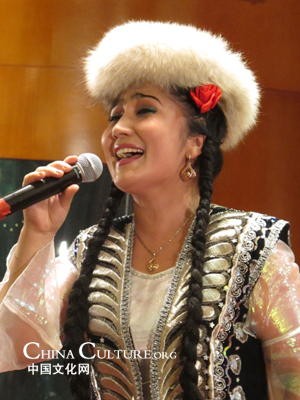 Ethnic singer perfoms at the welcome party in Urumqi, August 30. Photos by Dong Lin