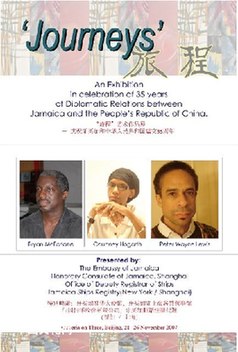 During the week of November 18 to 25th, the 35th Anniversary of bilateral relations between Jamaica and the People's Republic of China will be commemorated with a Joint Television Week to be presented by private and public sector media entities in both countries.

Sports, tourism, dance, cuisine and other aspects of Jamaican life will be featured on Chinese television and correspondingly television stations here will be carrying programmes highlighting Chinese life and culture.

China Central Television CCTV will carry daily programming on Jamaica from 19th November to November 25th.
Additionally the Jamaican Embassy in Beijing, China, supported by the Honorary Consulate in Shanghai and the Office of the Deputy Registrar of Ships, (New York Shanghai) will host a reception and mount an art exhibition, entitled 'Journeys', to mark the day that bilateral relations was established. Jamaica established diplomatic relations with China on the 21st of November, 1972.

The exhibition will feature the work of three Jamaican artists, two of whom are Boston based and maintain studios in Beijing China, namely Peter Wayne Lewis and Brian McFarlane, while the third is Courtney Hogarth, who is completing doctoral degree studies in Chinese painting, at the Chinese Central Academy. Mr. Hogarth will curate the exhibition.
Editor: Xu Shenglan