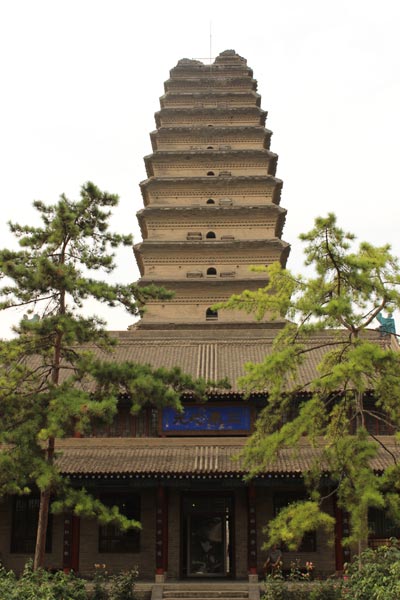 Small Wild Goose Pagoda in Xi'an is one of the 33 historical sites on the Silk Road that was included in the World Heritage list by UNESCO last month. Wang Kaihao / China Daily
For Xie Yanming who heads a team of about 10 people guarding the ruins of Suoyang City in the Gobi Desert, it is an unbelievable honor to have their work brought to international attention. Located in Guazhou county in the far west of Gansu province, the ancient earthen castle dating back to the Tang Dynasty (AD 618-907) was added to the UNESCO World Heritage list in June, together with 32 other historical sites on the Silk Road, a legendry Eurasian cultural communication and trade route.
"After spending nervous days preparing and waiting, we can finally get a good night's sleep," Xie says. "However, it may be for only one night."
Xie knows the world heritage listing means more pressure and heavier responsibilities. He discovered that monitoring work was a crucial consideration for the UNESCO evaluation panel when it visited the site last year.
"No one wants our World Heritage site to be deleted from the list in the future due to our poor work, so we need more rigid supervision," he says.
Their base used to be a run-down cabin close to the relic, but a hall built in 2013 has given them an easier way to keep a closer eye on the site with a monitoring system covering the 13,000-hectare heritage zone and costing more than 6 million yuan ($960,000). It is not a small amount for the underdeveloped county in western China, but Xie says over 60 percent of the cost is met by the State Administration of Cultural Heritage.
"The system is not only to safeguard the relic," he says, adding that the harsh natural environment is a major threat. "We also record scientific data and observe any tiny changes."