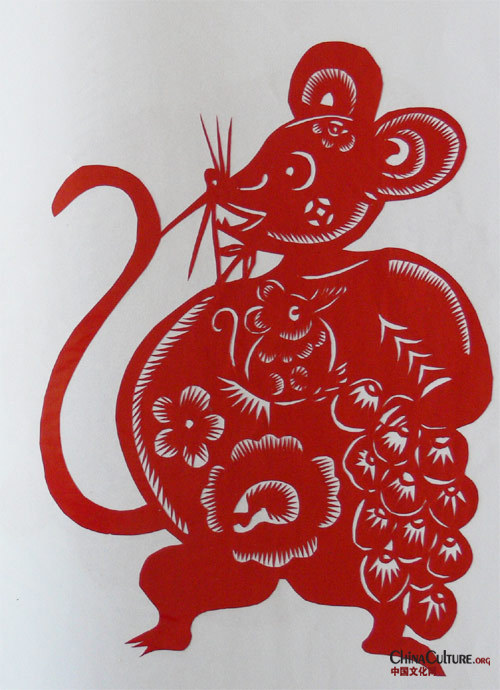 Rat: 1924/1936/1948/1960/1972/1984/1996/2008
The Rat is quick-witted. They are confident and usually have good instincts. Very well organized and talented, Rat makes a good businessman or politician. They could be greedy, but also seek knowledge and welcome challenges. Compatible with Dragon and Monkey.
The Chinese animal signs are a 12-year cycle used for dating the years. They represent a cyclical concept of time, rather than the Western linear concept of time.
The Chinese Lunar Calendar is based on the cycles of the moon, and is constructed in a different fashion than the Western solar calendar. In the Chinese calendar, the beginning of the year falls somewhere between late January and early February. The Chinese have adopted the Western calendar since 1911, but the lunar calendar is still used for festive occasions such as the Chinese New Year. Many Chinese calendars will print both the solar dates and the Chinese lunar dates.
The paper cutting artist Yin Hao creates the Chinese zodiac animals with a theme of "pregrancy".
About the artist: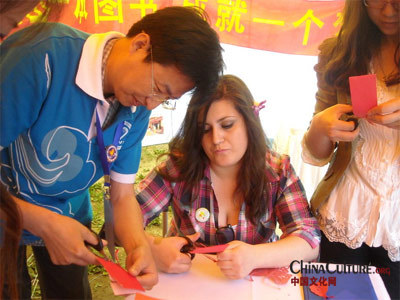 Yin Hao, (L) teaches paper cutting.
Yin Hao, a veteran artist, is the President of the Angel Volunteer Association, and the Dean of the Jifangge Calligraphy and Painting Academy.
When he was young, he learned about traditional Chinese culture from his grandparents, and later received formal training from leading art figures such as Dong Shouping, Tu An, Lou Shibai and others. He paid special attention to thsoe areas involving traditional Chinese calligraphy, paintings, carving, paper cutting and poetry.
Over 100 of his works published in journals home and abroad have been collected by many envoys, foreign friends, museums, galleries and foundations.
We Recommend: Check out which year of the animal you were born in. Click on your Chinese zodiac sign or birth year below to peek your fortune of Career, Money Love and Health in 2014, year of the Horse.