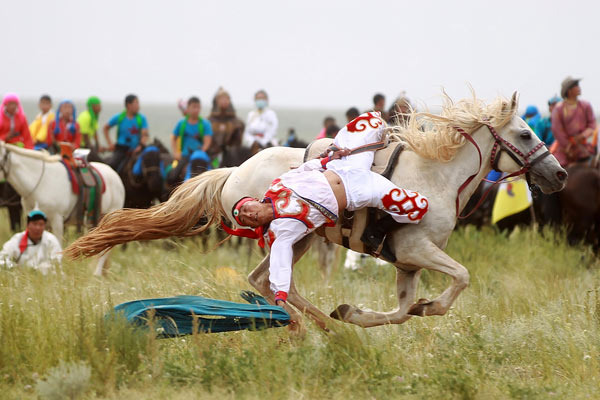 A herdsman demonstrates his equestrian skills on the grasslands outside Xilinhot, the Inner Mongolia autonomous region, during the recent Nadaam festival. Cui Meng / China Daily
Horseback riding, archery and wrestling still attract crowds, report Zhang Yuchen in Xilinhot, Inner Mongolia, and Yang Fang in Hohhot
This is the quietest season in the northern pasturelands of the Inner Mongolia autonomous region.
The grasslands are almost deserted, so unexpected rainstorms will only be heard by wandering herds and flocks. The reason is simple - everyone is attending the biggest party in the district.
Evlegtsetseg was the only person in the family tent, called a ger. Apart from lambs and calves chewing on grass nearby, the 40-something was alone, but she would have been attending the gathering if we hadn't shown up.
During late July and early August, many members of the Mongolian ethnic group rush to their local pastures to watch and participate in the biggest event in their calendar, the annual Nadaam festivals, a series of celebrations held in a number of time-honored locations.
Each festival is a two- or three-day event. Following an opening ceremony featuring singers and dancers, the audience prepares to see how the competitors perform in the "three manly skills": horseback riding, archery and traditional Mongolian wrestling.
In the past, the nomadic peoples of the region carried their gers, cooking utensils and other necessities to their local Nadaam, pitching their tents and making a temporary home for the duration of the festival.
Evlegtsetseg's closest neighbors, if the word can be used for people living around 160 kilometers away, were all at the gathering too. By the early part of August, approximately 20 Nadaam of varying sizes had been celebrated across the region. They are the high point of the locals' year. "I am still in the ger but my heart is at the Nadaam," said Evlegtsetseg.
We recommend:
Keeping traditional skills alive
Dust brushed off war heritage sites
Monitoring techniques help preserve world heritage