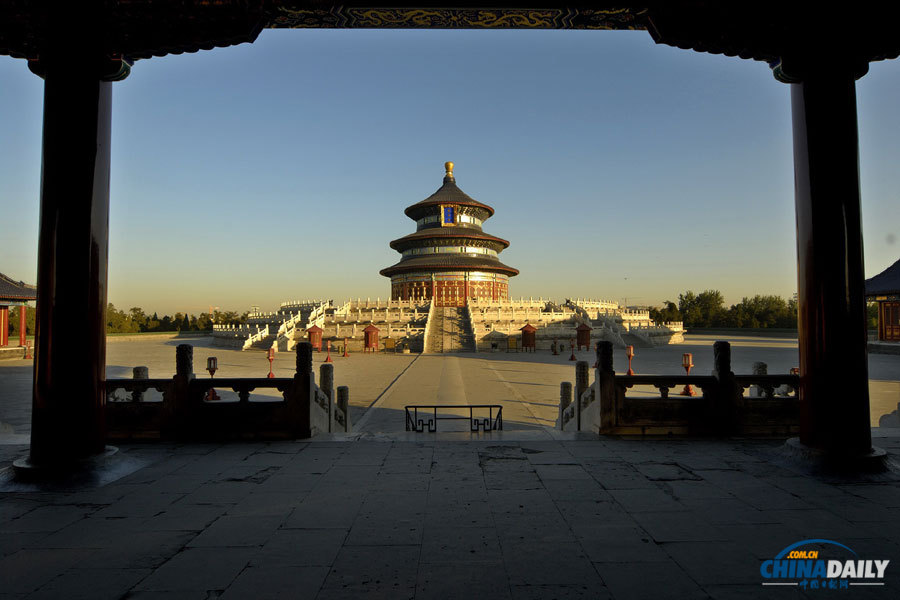 The Hall of Prayer for Good Harvests is the main building of the Temple of Heaven. As its name suggests, it is where emperors of Ming and Qing dynasty prayed for harvests. [Photo by Jia Yue for Chinadaily.com.cn]
The Temple of Heaven, or the Altar of Heaven, was founded in 1420 during the reign of Mingle Emperor of Ming dynasty. The building complex was used by the emperors of the Ming and Qing dynasties as a place to offer sacrifice to God and pray for good harvests.
Covering an area of 273 hectares, the Temple of Heaven is the biggest and the most complete existing imperial sacrificial building complex in the world. The Temple of Heaven was inscribed as a UNESCO World Heritage Site in 1998 and was described as "a masterpiece of architecture and landscape design which simply and graphically illustrates a cosmogony of great importance for the evolution of one of the world's great civilizations".
About the photographer:
Jia Yue, 36, who got a bachelor's degree in engineering from Tsinghua University in 2000 and later a master's degree in film studies from Beijing Film Academy in 2005, is now working with Tsinghua university's cultural heritage protection research institute. He is also a lecturer in the school of Photography of Beijing Film Academy.
From 2005 to 2012, Jia organized and completed the systematic visual recording works for dozens of cultural heritage sites, trying to introduce the concept of documentary photography into the cultural heritage protection system and to further explain the value of heritage through visual works.
The relationship between heritage, nature and human beings has been Jia's focal point. The combination of photographic language and historical perspectives is regarded important, which unifies Jia's dual roles as both a photographer and a heritage conservator. What Jia wants to achieve through his shooting is that the historical value carried by the cultural heritage can be felt and absorbed at the highest level.
We recommend:
 

 Sichuan opera: one of oldest forms of Chinese opera
 History is preserved in the Village of Chengkan

Hui-style buildings protected