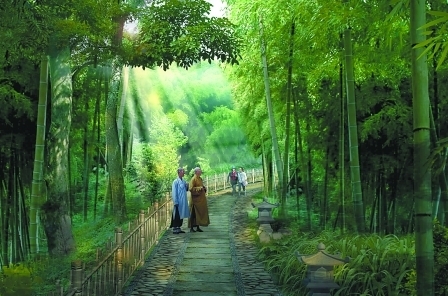 Jinshan Temple Sketch
Originally built in the Tang Dynasty 1,200 years ago, Jingshan Temple was well known for its extensive and profound tea culture and listed as "the No 1 Zen Temple in South East China" during the Southern Song Dynasty.
The thousand-year-old Jingshan Wanshou Temple launched a grand ground-breaking ceremony as an official start of its reconstruction in Zhejiang's Hangzhou in 2009.
According to the reconstruction plan, a tea culture exchange center and experience center will be the main projects. The exchange center aims to promote the Jingshan tea industry by standardizing the Zen Tea brand, integrating the Zen Tea planting base and reviving the Jingshan Tea Banquet, while the exchange center is designed to hold forums and seminars in order to intensify Sina-Japan Buddhism communication.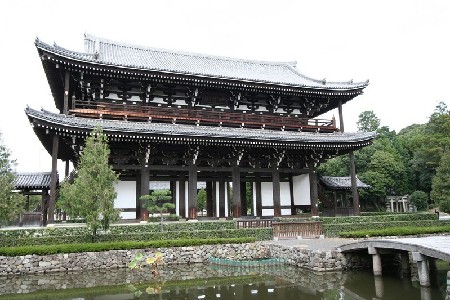 Tofukuji temple
A friendship Memorandum agreement was signed between Jingshan Temple and Japan Tofukuji Temple, which was declared a World Heritage Site by UNESCO. It was originally founded by Enni Ben'en who studied in Jingshan Temple in 1235 and brought the Rinzai School to Japan.

The earliest Buddhism communication between Jingshan Temple and Japanese Buddhists was in 1235 when Enni Ben'en (1202-1280) studied various forms of Mahayana under the Rinzai teacher Wuzhun Shifan at Jingshan Temple.
Jingshan Temple also originated the Japanese Tea Ceremony. Nanpushaoming, who learned tea planting, tea making and tea banquet ceremony during his studies under the 40th Abbot of Jingshan Temple, brought the tea ceremony back and developed it in every corner of Japan.