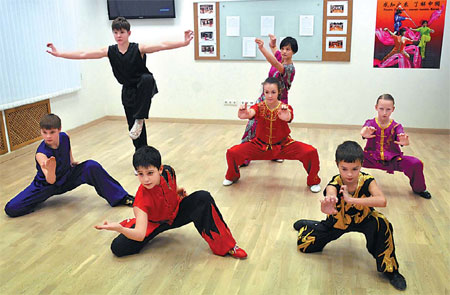 Anyone in Moscow interested in Chinese culture can now do research, watch films, attend classes or just have a cup of tea at the China Cultural Center in Moscow.
The center, which officially opened on Dec 5th, 2012, is housed in a former casino on Pravda Street. It has an exhibition room, multi-function hall, library and cinema.
The center has been operating on a trial basis since September. It has presented a puppet performance, painting and photo exhibitions, and held classes for calligraphy, tai chi and paper cutting.
It has also shown a number of Chinese films, including Confucius, The Message and Bodyguards and Assassins.
"We hope the China Cultural Center in Moscow will become a regular platform for Russian people to learn about China," says Yu Peng, deputy director of the bureau for external cultural relations under the Ministry of Culture.
The center in Moscow is the 11th overseas cultural center that China has built since 1988 when the first center opened in Mauritius. By the end of this year, the number will reach 13, including those in Egypt, Germany and Mexico. Centers in seven other countries including Singapore and Canada are being built, and China is also in discussions with a number of countries about establishing cultural centers.
According to Yu, like all other China Cultural Centers in the world, the center in Moscow will be devoted to providing information, education, training and organizing events.
The library at the center now has a collection of more than 5,000 books and more than 40 newspapers and magazines. Chinese students in Russia, which now total more than 20,000, can also use the library to research previous theses of Chinese students in Russia.
The center is a manifestation of the close cultural ties between China and Russia in recent years. The "Year of Russia in China" was held in 2006, and the "Year of China in Russia" was held in 2007.
Russia also established a Russian Cultural Center in Beijing in September 2010. In the past two years, the center has held about 500 events and received more than 60, 000 guests.
The upcoming event of the Beijing Russian Cultural Center will be a free concert by pianist Yuri Rozum on Friday night.