Asian countries seeking ways for cultural development as crisis lingers
The development of Asian culture during the present global downturn is the focus of a ministerial round-table meeting involving 17 countries, a major part of the 11th Asian Arts Festival, which began Tuesday in Ordos of Inner Mongolia Autonomous Region.
"The impact of the global financial crisis has extended to various aspects of society. Cultural development in Asia is facing severe challenges, and how to deal with the challenges are urgent issues facing Asian countries," said Cai Wu, China's culture minister in his opening speech.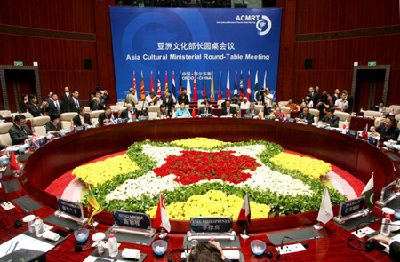 As an important part of the 11th Asia Arts Festival, the Asia Cultural Ministerial Round-Table Meeting kicks off in Ordos, north China's Inner Mongolia Autonomous Region, Aug. 18, 2009.
He said many cultural projects in Asian countries had to be cancelled or suspended due to shortage of funds as a great deal of social funding had been diverted to bolster the economic sector to weather the financial crisis. Companies and organizations were reluctant to commit to cultural investments.
He said the downturn had also caused a drop in demand for culture and associated activities.
"Bankers who lost their jobs are no longer seen at art auctions, and those who are worried about the future won't go to an opera."
"Four hundred years of colonization never robbed the Philippines of its cultural identity ... The colonial power and influence only comprised part and parcel of what we are to create a more concrete national identity," said Chairwoman Vilma L. Labrador of the Philippines' National Commission for Culture and the Arts.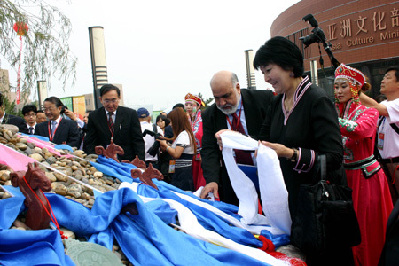 Asian culture ministers worship Obo (stone pile for offering sacrifices to the gods) before the opening ceremony of the Asia Cultural Ministerial Round-Table Meeting in Ordos, north China's Inner Mongolia Autonomous Region, Aug. 18, 2009.