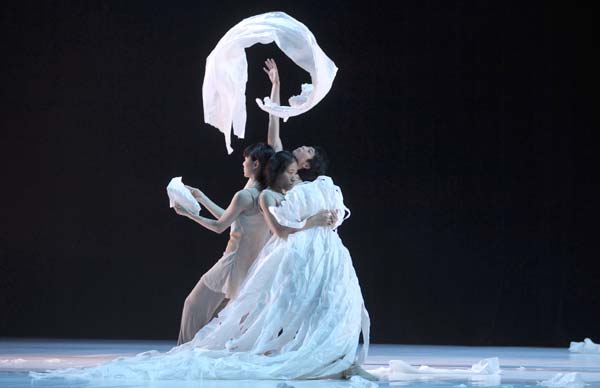 Choreographer Chao Ke uses paper as the main medium in his production In Between. Zou Hong/China Daily
It has been over two decades since modern dance was imported to China, largely from the West. But the art form has often looked avant-garde and mysterious to local audiences, especially to those people who enjoy traditional Chinese and ethnic folk dances.
Now, a 32-year-old dancer-choreographer hopes to change some of that.
Along with the Beijing-based 9 Contemporary Dance Theater, Chao Ke directed a new show titled In Between, which premiered on July 3 at the Poly Theater in Beijing and will be staged at the National Center for the Performing Arts this month before going to Tianjin, Shanghai and other Chinese cities.
He chose paper - a common object of daily use - as the main medium to portray people's lives in modern society and human relationships. During the 85-minute show, audiences will see a lot of paper, either flying above the stage or rolled into big balls by some 16 dancers.
"The dancers use paper to express various moods, ranging from what people feel when rushing to work in the morning to how relaxed they are at night," says Chao. "A twisted and pressed paper, for instance, symbolizes people living fast-paced lives."
The director says he chose paper because it is "very ordinary and usually ignored".