"Can you tell me what progress is?"
This is a question you may be asked by a young girl at the exhibition hall of Ullens Center for Contemporary Art in Beijing. If you give an answer, you may find yourself being approached by other people until you realize you are speaking with an elderly performer, having traveled through zigzagging laneways. You have actually become part of UCCA's latest exhibition by British-German artist Tino Sehgal.
The exhibition is the artist's largest presentation in Asia to date, and according to Biljana Ciric, a Shanghai-based independent curator, the show only occurs in the moment a conversation happens between volunteers working for the artist - Sehgal calls them "interpreters" - and the visitors.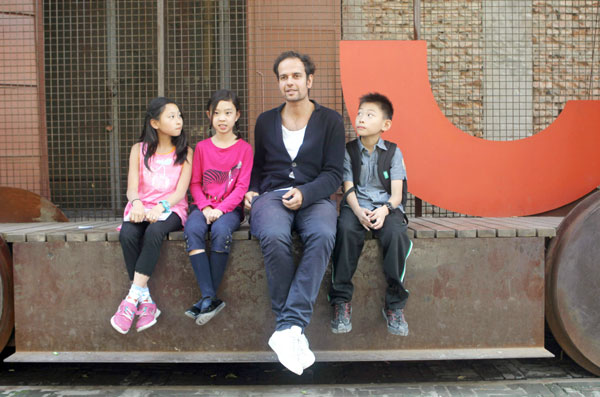 Tino Sehgal sits on the gate of UCCA with children, who visit his exhibition that continues in Beijing through Nov 17. Zou Hong / China Daily
"This is not a conventional exhibition if you define an exhibition as something with tangible objects," says Ciric. "But this is what the artist does. He is not a performance artist. He creates situations in exhibitions, which are called 'constructed situations'."
Ciric says the questions take on a particular resonance in China and are aimed at having visitors reflect upon their desires and the aesthetics of their daily lives.
"The result is a series of exchanges that touch upon philosophical, political and economic issues, variously questioning the social conventions that support our daily existence," she says. "China is undergoing a huge transformation in its market economy and everyone is involved in it. Though the concept is abstract, people have their understanding."
When Ciric brought Sehgal's work to China for the first time in Shanghai last year, Sehgal did not attend. During the exhibition in Beijing, he quietly walks around the space, observing the interaction between the interpreters and the visitors.
"I set up these virtual games with relatively simple rules in which a group of individuals has to work together," explains the 36-year-old artist about the concept of "constructed situation", for which he is acclaimed. "I feel like a coach here."
"Everyone in the space walks through time. I want to put you in that space, which is not everyday motivation but individualized activation," he says.
Sehgal, who was born in London and has lived in Berlin for 18 years, says he thinks about each piece for a long time.
"Sehgal's preparation for his exhibitions is long and intense; what looks to be improvised is usually the result of careful planning," Ciric says.