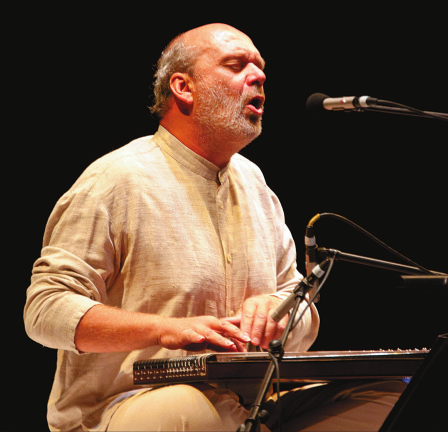 German musician Stephan Micus will dazzle listeners on Oct 31 with his multi-instrumental performance in Beijing.
As a curious traveler, Stephan Micus has made several extensive trips to China since 1984, after listening to a concert given by a group of Beijing monks in Munich. Now at the age of 60, however, the multi-instrumentalist/composer is performing in China for the first time this fall.
After concerts in Shanghai, Shenzhen and Guangzhou in September, he will be onstage on Oct 31 at Post Mountain Art Space Beijing.
For each concert, Micus brings seven or eight instruments onstage, ranging from the Armenian double-reeded duduk to the Ethiopian 10-string bagana.
He modifies every instrument he plays, sometimes he also makes his own instrument, such as the kalimba he brought to Shanghai, made of a small wooden box and metal pieces from an old bicycle.
He has created a body of work inspired by travel and study, often featuring instruments that have never been played together before: Indian dilruba mixing with Arabian nay; Tibetan chimes blending with Bavarian zithers; and Ghanese dondon uniting with Japanese shakuhachi.
Known for using traditional instruments that have been outside the musical mainstream in an unprecedented way, the German ECM Records artist has released Panagia, his 20th album, in 2013. It's a continuation of his multi-track acoustic playing, blending sounds from Bavaria, Pakistan, India and the Xinjiang Uygur autonomous region in China.
In 1973, when Micus temporarily lived in Manhattan, he brought his first recording, which he made at his parents' house in Ibiza, to WBAI, a public radio station in New York known for seeking fresh musical blood. The director then, Judy Sherman (now producer of the Kronos Quartet) liked the recording and made an hour-long program out of Micus' music.
"Judy told me that I should meet someone called Manfred Eicher (founder and producer of ECM) when I go back to Munich," he recalls.
After traveling for another 18 months, he did.
Micus says his first real adventure began when he was 16. Influenced by the hippie culture introduced by his painter father on a family holiday to Ibiza, he hitchhiked from Ibiza to Morocco.