The National Center for the Performing Arts, the egg-shaped national theater, since opening in late 2007, has embarked on an ambitious enterprise of producing lavish opera productions. Its first outing in Wagner is The Flying Dutchman-with such state-of-the-art stagecraft that people compared it to The Pirates of the Caribbean. This and the subsequent Lohengrin filled the house but divided critics. It is unclear how many neophytes were converted into Wagner aficionados.
With imports and self-productions, nine of the 10"mature" operas in the Wagner canon have graced the Chinese stage, leaving only Die Meistersinger von Nurnberg. Of this year's offerings, Parsifal is a China premiere and is the most anticipated by many local Wagnerites. As for a self-production of the Ring, Ke says: "It's gonna happen within five years with NCPA. But they should probably do the tetralogy one opera at a time."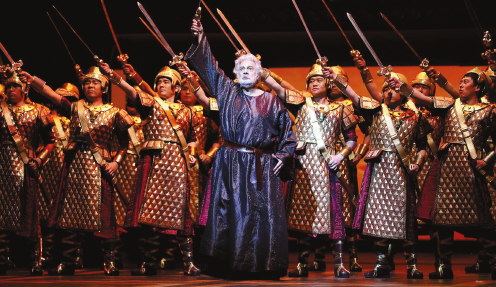 Opera superstar Placido Domingo plays the title role for Nabucco at the National Center for the Performing Arts in Beijing.
Verdi in China
To many Chinese, Verdi has been synonymous with La Traviata. For a long time, it was the only Verdi opera presented across China. On Dec 24, 1956, the China National Opera House staged an all-Chinese production at Tianqiao Theater in Beijing. It is considered the very first Western opera on a Chinese stage.
Verdi
But that is inaccurate. According to Liu Shirong, an eminent music scholar, there are historical records that chronicle performances of Western music, including opera, in the Chinese cities of Shanghai and Harbin. For example, La Traviata was presented in Harbin in 1924, followed by Aida. These were all touring productions from Western countries, serving almost exclusively the expatriate communities in these Chinese cities. Liu was certain that Beijing and Tianjin, also with enclaves of Western residents, saw performances of Western opera as well, but records have been lost. And Hong Kong must have been exposed to it earlier than the rest of China, adds Liu.
For Chinese music devotees, i.e. those with good education and cosmopolitan outlooks, Verdi existed on the printed page and, sometimes, on the gramophone player. Stories of Western Opera, written by Xu Chi, a renowned writer, was one of several such titles popular in Shanghai in the 1930s-40s. Liu Shirong has clear memory of attending a fan club in Chengdu in 1944 when he heard a record of Un Ballo in Maschera. While a music student in Chongqing, he also went to a group meeting where the complete Il Trovatore was played, with explanatory guidance from a fellow student.