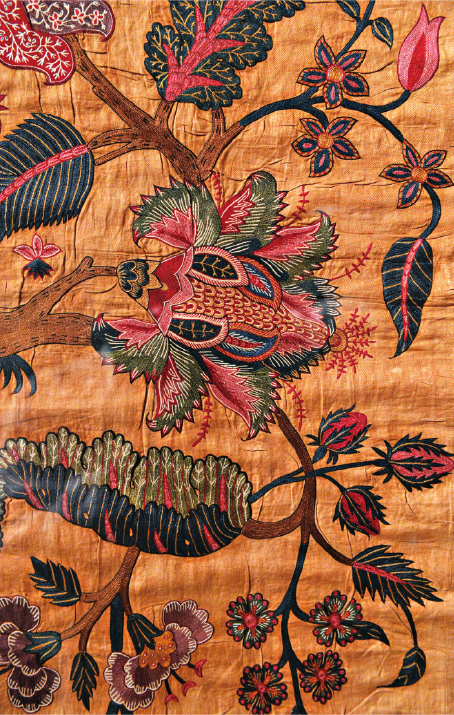 A mid-18th-century wall covering
Tapestries that weave the world's tales
There are quilts and bedcovers, tapestries and wall hangings, and curtains both domestic and religious. There are shawls and capes, kimonos and vestments, jackets and ball gowns. An overview of more than three centuries of art, commerce, craft and cross-cultural fertilization, "Interwoven Globe: The Worldwide Textile Trade, 1500-1800" at the Metropolitan Museum of Art in New York is one of the great art experiences of the season. It runs through January 5.
Crisscrossing cultures in Europe, the Americas, Asia and India, this feast of transcendent artifacts variously embroidered, woven, dyed and printed retraces the world's early oceanic trade routes, using examples of the fabrics and finished textiles that traveled along them.
The motifs throughout the show are derived from natural forms when they aren't figurative, which gives many works a great pictorial punch and, sometimes, narrative import. History itself is present, as in a rather daunting suite of tapestries depicting four continents that was commissioned by Louis XVI but arrived too late for him to enjoy. (The French Revolution intervened.)
Two elaborate Indian hangings, one painted and one embroidered, offer finely detailed accounts of clashes between colonial and indigenous forces. Opposite these is an English quilt printed with repeating scenes of encounters between Captain Cook and indigenous inhabitants of the Sandwich Islands (now Hawaii), including his killing.
India produced textiles not only for markets in Europe and America but also for those of Indonesia, Japan, Thailand and Sri Lanka. These include an 18th-century cotton jacket that has been intricately painted and dyed for the King of Siam's royal guard.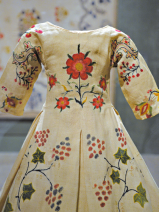 Detail of a dress for an English boy, circa 1755-65.
A leitmotif in several of the exhibition's nine galleries is the Indian palampore, a cotton bedcover or wall hanging depicting a tree of life surrounded by scrolling vine-and-flower patterns. These are the forerunners of chintz (a variant of a Hindi word) and may well have originated in England and been sent to India as a template. But the Indians made them their own, producing versions in embroidered or dyed cotton that, in turn, inspired textile producers around the globe.
Cultures nearly clash in a towering tapestry of embroidered silk made in China for the Portuguese market in the first half of the 17th century. Dominating the opening gallery, it depicts the abduction of Helen by Paris and his Trojan cohort, based on European prints. Nonetheless, Chinese-style architecture, clouds and waves frame the battling Baroque bodies. The scrum also seems randomly dotted with the heads of Chinese lion-dogs and gorgons that, upon a closer look, appear to be part of the warriors' gear.