A traditional shadow puppet theater from Northeast China, Gypsy music from Hungary, a royal dance from Yogyakarta, Indonesia, and many other styles of music and dance will share the same stage in Beijing.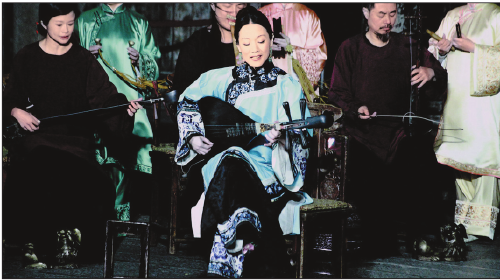 Xinxin Nanguan Ensemble from Taiwan gives a performance of the ancient Chinese art of Nanguan.
The Moma Post Mountain Music and Art Festival, which will start on Oct 3 and last for over a month, will present various performing arts from around the world.
"This year we are focusing on world music, and hope to showcase styles that are rarely seen in China," says Jiang Shu, artistic director of the festival.
The festival will be held at Post Mountain Art Space, located in Grand Moma, an "arts community" of Beijing that also hosts such cultural organizations as the Broadway Cinematheque and Kubrick Cafe.
This will be the second Moma Post Mountain Music and Art Festival. Last year the festival focused on rock music, while this year the festival will present many programs of traditional music.
It will open with three shows of shadow puppet theater from Xiuyan county in Liaoning province, which blends shadow puppetry with the local culture of the Manchu people.