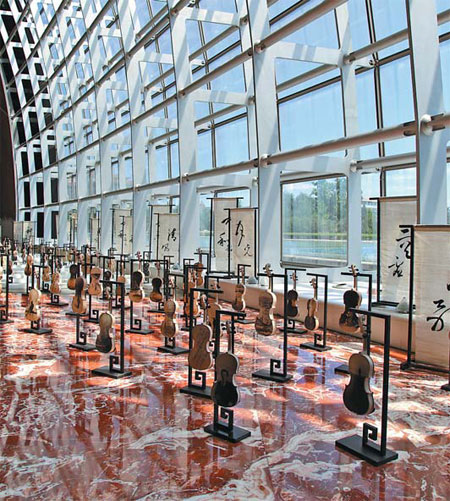 Li Chevalier's visual symphony is staged at the National Center for the Performing Arts in Beijing. Provided to China Daily 
Li Chevalier is staging a 10-day visual symphony at the National Center for the Performing Arts, with silent violins playing a Chinese theme.
She has installed more then 100 of the string instruments on the center's second floor, each decorated with calligraphy, notes or a musician's portrait. Accompanying them are linen sheets of opera scores and tablets of recurring Chinese Zen scripts, gleaned and copied from Xi'an's forest of Stone Steles.
"It's East meets West in every way," says the 51-year-old Chinese artist, who has lived in France for more than 20 years.
"Let Western instruments merge with ink and wash painting. Let black and white, or the colors of music notes explain the Chinese 'Zen' idea that's simple, sober and serene."
"It's all about harmony." Li continues. "Where different sounds work together to form moving chords, I set up installation to achieve the same effect. Culture exchange should work in the same way."
Visual Symphony opened at the closing ceremony of this year's Croisements Festival.
"It's an exceptional kind of art. Li bridges the two countries as well as different art forms," French Ambassador Sylvie-Agnes Bermann said at the opening on July 3.
"It shows that culture from both countries has so much more room to collaborate."
Ding Kuisong, general secretary of China International Culture Exchange Center says Li's work helps to bond Sino-French culture.
"She shows how the two can work wonders together," Ding says.
The exhibition was a prelude to the night's NCPA concert with Philippe Jordan and the China National Symphony Orchestra. Tchaikovsky's Concerto for Violin in D major and Symphony No 6 in B minor Op 74 were chosen to follow.
"Violins have the same poetic lines as Chinese calligraphy," Li says. "Symphonies best present show how different parts can crossover and enhance each other."
Li, known for mixing Oriental aesthetics with Western concepts, says herself, Philippe Jordan and violinist Federic Laroque, both partners from the Paris Opera House, have been planning the exhibition for over two years.
"It all started with our mutual wish to mix art and music, cross the borders of art forms and countries," Li says. She drew inspiration from the symphony Cantabile Per Archi, which has chorus of string instruments, and found material for the installation from Pinggu village near Beijing.
"They all go back to the ancient Chinese idea of harmony in diversity," she says. "Elements from different cultures and religions can work with each other and reach the sublime."
sunye@chinadaily.com.cn
We recommend:
 

 Museum presents insights into landscapes
Getting into the picture 

Famed artist's paintings exhibited in Beijing