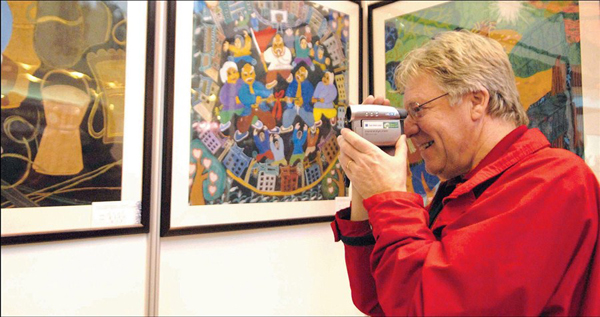 "Happiness" is the enduring theme of all Jinshan farmer paintings. They are famous for their colorful scenes of country life.
Visiting Jinshan area takes you to a bucolic water town with a chance to see peasant painters at work. Wang Jie has a look.
When mentioning Jinshan, a suburban district of Shanghai, many will immediately think of a special product that has nothing to do with the area's well-known agricultural goods: peasant paintings done by farmers.
At the western tip of the district is a traditional water town — a scenic area with many canals and old buildings — named Fengjing. It is best known for originating "Jinshan Farmer Painting," a style that has become quite well-known in China and internationally.
Often given as diplomatic gifts, Jinshan farmer paintings have been exhibited around the world in more than 17 countries and regions, including in London's prestigious British Museum. Farmer painters in suburban Jinshan District are famous for their colorful scenes of country life, known as "Chinese Picassos," and the government is schooling them and setting up a website so they can market their works.
The "primitive" painters usually use a wide range of striking colors across the canvas. Instead of exploring modern urban reality, traditional rural themes such as fishing, cloth dyeing, spinning and market scenes are preferred.
Figures and objects are usually drawn in a way that most people may consider childish.
"Jinshan farmer painting is somewhat similar to children's drawing, relying mostly on the imagination rather than professional skills," says farmer painter Chen Xiu, who owns "Hong Sheng Huo," which was the first Jinshan farmer painting brand.
Works by Chen's father, Chen Fulin, has been exhibited in the British Museum.
Originally, Jinshan's people painted frescoes on the walls above the kitchen stove in the days before they had modern cookers. The wood-burning stoves were part of the architecture. But the frescoes were difficult to preserve because of the humid weather.
We recommend: