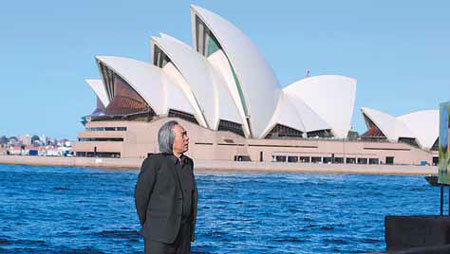 Two legends: Huo at the iconic Syndey Opera House. Photos Provided to China Daily
Taoism, Buddhism, the I-Ching and Confucius have helped shape Huo Chunyang's creative vision, Wang Hui reports.
As dusk settled in on the night of May 6, a lecture hall at the University of Sydney was full with an audience eager for insight.
To the surprise of organizers, 70 people, mostly Westerners, had showed up for a lecture on traditional Chinese painting.
The star of the night, Professor Huo Chunyang, was invited by the University of Sydney Confucius Institute to give a public talk on his understanding and practice of traditional Chinese painting.
He talked about the philosophies that inspired Chinese artists from generation to generation since ancient times, and demonstrated to the audience the gracefulness and delicacy of flower and bird painting in freehand brushwork.
The audience gathered around him with great interest as Huo painted rocks, orchids and bamboo on a piece of high-quality rice paper.
It was considered a tour de force by a master who has devoted more than four decades to painting flowers and birds.
We recommend: