Zhao Yanbin breaks with ink painting tradition in his heavy use of color, Wang Qian reports
A recent three-day solo exhibition of Chinese ink painting by Zhao Yanbin at the Shandong Art Gallery attracted enthusiasts to the artist's depictions of nature and rural life.
Sponsored by the Shandong Artist Association and the provincial department of culture, the show was held from Dec 8 to 10.
The exhibition featured more than 100 ink paintings Zhao created over the past two decades including representative works such as Chinese Farmer's Dream, The Yellow River Stone Forest and Impressions of the Taishan Mountains.
Wang Junmin, deputy Party chief of Shandong province, and Yang Chongguang, head of the Chinese Traditional Culture and Art Research Institute at Peking University, visited the exhibition and spoke highly of Zhao's works.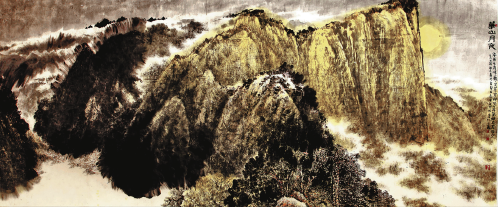 Huashan Mountains Under the Moonlight
Born to a rural family in 1956, Zhao was always attracted by the natural beauty of his home village in Zhaoyuan, Shandong province and developed a particular interest in drawing when he was a child.
During his studies at the Beijing Painting Academy while in his 30s, Zhao learned painting from masters such as Wang Wenfang and Cui Zifan, and finally formed his own style that combines traditional and modern elements.
A Rural Backyard
The artists of traditional xieyi shuimo-or freehand ink painting-usually pay great attention to the subtle changes of the ink and brush strokes and avoid the overuse of colors.