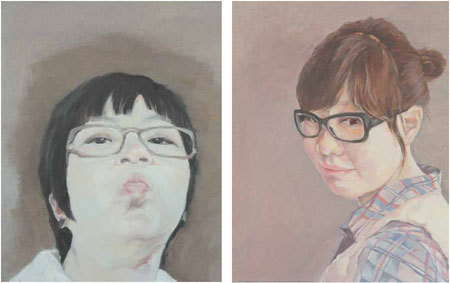 Left and right: Facial expressions
Painter's thesis probes changing way Chinese people see themselves
When she graduated with a master's degree from the School of Fine Arts at Jiangsu Normal University this summer, the journey in the arts had only just begun for 25-year-old Ding Ding, she said.
Ding started to learn painting at a young age.
Her academy training in fine arts began in 2003, when she was enrolled at the middle school affiliated with the Nanjing Art Institute. The institute accepted her in 2006 as a student of fine arts with a major in oil painting.
Taught by renowned painters, such as professor Chen Shaoli and Xing Jianjian, Ding said she discovered the charm of oil painting at that time.
"Unlike traditional Chinese paintings that aim to portray the painter's feelings with a few brush strokes, oil paintings focus on detailed techniques, requiring great effort to portray reality," Ding said.
"But later I realized that there is something in common - both styles express life and passion," she added.
Ding's further exploration of the expressionist features of oil painting was made possible after she became a postgraduate student at the School of Fine Arts of the Jiangsu Normal University, where she systematically studied painting theories under the instruction of her tutor Professor Ding Feng and other teachers.
Her research resulted in a thesis titled Study on Facial Expressions in Contemporary Chinese Oil Paintings.