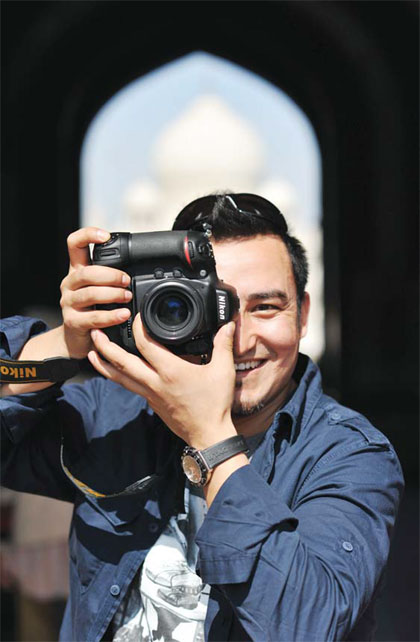 Kurbanjan Samat works on his project of photographing 120 Xinjiang people who live elsewhere in the country and getting their stories. Xiao Wei / For China Daily
Kurbanjan Samat couldn't sleep on the night of March 1, 2014, after hearing news that 29 people had been killed by eight Uygur assailants at Kunming Railway Station in Yunnan province. Authorities identified the assailants as part of separatist forces from Xinjiang Uygur autonomous region. Kurbanjan felt enraged and upset when he saw Weibo bloggers carelessly blaming everyone from Xinjiang. He decided to retort to biases with a photo series titled I'm from Xinjiang.
Every photo is a portrait snapped since late 2013, focusing on Xinjiang natives working in other parts of the country, even overseas. "Our people have been alienated, labeled violent and terrorists," he frowned. "I wanted my pictures to show true faces."
Kurbanjan has experienced many headaches due to his Xinjiang heritage. Soon after the Kunming Incident, he and his friends were searched by police in Beijing. He received phone calls from the local police station asking how long he was planning to stay in Beijing. "I'm going to stay here forever!" he couldn't help but rage. "Send me to Babaoshan (a local cemetery) when I die!"
Born in Hotan, Xinjiang, in 1982, Kurbanjan has lived in Beijing for eight years. He bought his first camera at 17. His work experience is quite diverse: boxer, barbecue operator, and jade salesman, through which he met directors Meng Xiaocheng and Li Xiaodong from CCTV, China's biggest media outlet, who got him involved in shooting documentaries. In 2006, he came to Beijing to study at Communication University of China. He has been a camera operator for CCTV ever since.