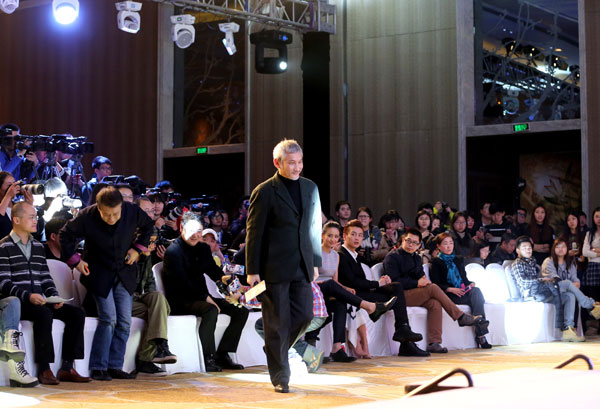 Director Tsui Hark's latest production, The Taking of Tiger Mountain, is adapted from a classic Peking Opera of the same title. [Photo by Jiang Dong/China Daily]
Half a century after its debut, the revolutionary Peking Opera Taking Tiger Mountain by Strategy is staging a contemporary comeback-as a 3-D film epic.
Questions swirled around distributor Bona Film Group's announcement two years ago that the film would be directed by Hong Kong martial arts filmmaker Tsui Hark-a Vietnam native educated in the United States, who didn't seem to have a cultural connection to the production.
The reason was explained at a news conference on Tuesday. Hark has been obsessed with the story since he saw a 1960 film adaptation in New York City's Chinatown in the '70s.
"It's the film I wanted to shoot on the mainland more than any other," the director recalls.
The Taking of Tiger Mountain (English title) will be screened nationwide on Christmas Eve.
It's a 1940s war story in which a spy uses his wit to infiltrate and defeat a heavily armed group of bandits.
The opera, initially produced by Shanghai Jingju Co in 1958, is based on the most action-packed chunk of Qu Bo's bestselling novel Tracks in the Snowy Forest. The book's popularity inspired August First Film Studio to create the 1960 film, and three musical dramas were produced in the late'60s.
Tsui spoke for three hours with Qu's widow about her husband's experiences as a military squad leader, who fought bandits and the Kuomintang in northeastern China.
"Most of my previous productions feature fictional stories and roles. But The Taking of Tiger Mountain is based on real memories of wartime brutality," he says. "It's pretty real. I wanted to project a powerful feeling on the big screen."